She is Not Invisible
Marcus Sedgwick
2014 – YA – Realistic Fiction
Rating: 5/5
The Story:16-year-old Laureth is blind, but she has a knack for spotting patterns, recurring numbers, and coincidences. Her brother Benjamin is 7. For some reason, electronic devices stop working at his touch – the Benjamin Effect. When their father goes missing while doing research for a new book about the power of coincidence, Laureth and Benjamin sneak away to New York City to follow the clues he has left behind.
The Opening Line:One final time I told myself I wasn't abducting my little brother.
What I Loved:The mystery. After recovering their father's writing notebook, Laureth and Benjamin discover clues that they must follow in order to gain information about his whereabouts. It's a fun scavenger hunt across the city. Also, Laureth's perspective is really interesting, because she can't describe things in terms of colors or shapes, like most people do.
What I Didn't Love:There were no repercussions in the end for Laureth taking her brother and flying across the Atlantic in the search for her father. If I had disappeared like that when I was 16, my parents would have flipped, to say the very least.
Final Thoughts:I tend to take for granted that the main characters in the books I read are overwhelmingly without limitations. It was great to see strong characters who are different but who are also able to persevere when faced with obstacles. Laureth's blindness and the Benjamin Effect, as well as their ages, undoubtedly made their journey harder, but it didn't stop them. I really love Sedgwick's books, and She is Not Invisible is another winner!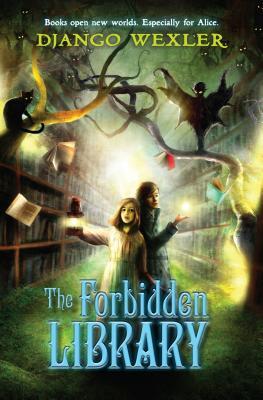 The Forbidden Library
Django Wexler
2014 – KidLit – Fantasy
Rating: 4/5
The Story:One evening way past her bedtime, Alice overhears her father being threatened by a vicious sprite. The next morning he sets out on a journey, and a few days later he is dead. Alice is quickly whisked away to live with a reclusive relative, Geryon, who is the master and overseer of a strange library. After sneaking into the library, Alice discovers that she is a Reader, someone who can read herself into the pages of a book. Once in, though, there is only one way out.
The Opening Line:Much later, Alice would wonder what might have happened if she'd gone to bed when she was supposed to.
What I Loved:This is a fantasy novel set primarily in a mysterious library. What's not to love? I really enjoy books about books, and this was a tribute to the power of words and the adventurous possibilities of jumping into a book. Also, Alice loses everything in the beginning, but finds herself empowered and in control later in her story. Sound like another familiar tale to anyone? Harry Potter, maybe?
What I Didn't Love:The ending obviously paved the way for a sequel, and a little digging around confirmed this. This isn't necessarily a bad thing, but it's hard to have read this now knowing that I will have to reread it in 2015 when the next book is released. Also, plotwise, it was hard to figure out who to root for, other than Alice herself. The other characters all have their own agendas and ideas, and it's a bit muddled to me. That was probably the point, though.
Final Thoughts: Overall, this was a joy to read. I love great fantasy, and this was such a unique twist on the standard formula. In a way, it reminded me of other books like Inkheart, Harry Potter, and Heir Apparent – in a library setting, I would pair these books for fantasy fans. My initial intrigue wasn't wasted. I can't wait to read the rest of the series!