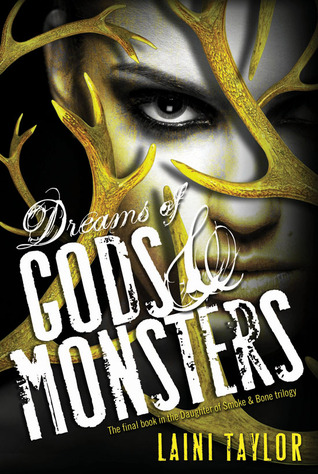 Dreams of Gods & Monsters
Laini Taylor
2014 – YA – Fantasy
Rating: 4/5
The Story:Karou knows better than to hope that her chimaera can forge an alliance with Akiva's angel army in an attempt to eliminate an even bigger threat. She also knows better than to dream of a future with Akiva, as angels and chimaera have long been mortal enemies. But with two worlds on the brink of war, Karou and Akiva must step forward, placing their trust in themselves and each other, before it's too late.
The Opening Line:Nerve thrum and screaming blood, wild and churning and chasing and devouring and terrible and terrible and terrible –
What I Loved:The story of Karou and Akiva's alliance. Enemies working together against a larger threat. The themes of friendship, honor, and courage. The steady pulse of hope throughout. The fleshed out characters and universe. In short, I loved how Taylor wrapped up this trilogy with a plot full of mythology, an epic and ancient battle, and a great ending.
What I Didn't Love:The length. At 613 pages, it felt a little long for me. I like big books, but my attention sometimes drifted. Especially with the storyline of the Faerers and the Stelians. I absolutely loved most of the book, but I dragged going through some of those sections. I understand and appreciate their importance, but they just didn't resonate with me personally.
Final Thoughts:This was a great ending for such a unique series. I really enjoyed diving into this universe that is just chock full of interesting characters who all felt really authentic. I liked the intrigue, alliances, and battles, but I loved the friendships, romances, and character studies even more. This series is highly recommended for fantasy lovers!