*Apologies in advance – this was supposed to be yesterday's post, so there will be two today!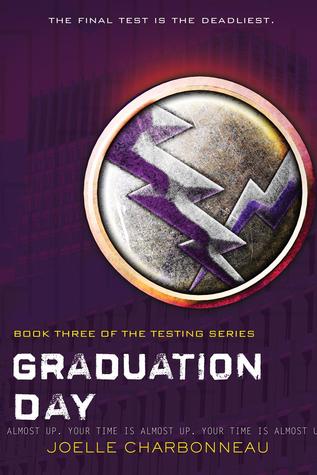 Graduation Day (The Testing #3)
Joelle Charbonneau
2014 – YA – Dystopian
Rating: 4.5/5
The Story:After surviving the Testing and entering the University as a Government Studies student, Cia is tasked by President Collindar to carry out a very dangerous – and important – mission. If the Testing selection process is to be disbanded, Cia and her friends will have to band together to eliminate several very high ranking officials in charge of the Testing and the University. Caught on the edge of a rebellion, Cia must trust her instincts as she fights for what she believes is right – and what change the course of the country forever.
The Opening Line:A knock makes me jump.
What I Loved:This was a stellar conclusion to this series. Charbonneau is terrific at using words to place the reader in the middle of the story, and I was caught up in Cia's decisions the whole time. Cia's uncertainty throughout the whole book makes her feel authentic and human. It was great to puzzle out other characters' intentions and motives right alongside Cia. And holy plot twist, Batman! The ending completely threw me for a loop, in a great way.
What I Didn't Love:Something that felt really unbelievable to me as I read through the novel was that Cia and her group of friends are able to get very close to high ranking officials fairly easily. I think there would have been more security measures taken to protect these officials, especially at the height of the rebellion. Thankfully, some of this is explained later on. Also, the standard dystopian genre conventions are all here: corrupt city officials, rebellion, a teenager stepping out as the hero.
Final Thoughts:What a fantastic series! Just when I think I am burning out for now on the dystopian genre, Charbonneau pulls me back in with this expertly crafted story. Although all the standard genre conventions are there, the writing is terrific and I was pulled into the story. For dystopian fans, I would pair this with other series like The Hunger Games, Matched, and Divergent.
A World Without Princes (The School for Good and Evil #2)
Soman Chainani
2014 – KidLit – Fantasy
Rating: 3.5/5
The Story:After choosing Sophie and returning home to live out her Happily Ever After, Agatha begins to wonder if she made the right choice. Finally, thinking of the happiness that could have been with Tedros, her prince, she wishes for a different ending to her fairy tale. Finding herself back at The School for Good and Evil, she realizes that by choosing Sophie over Tedros, she has created a world of female empowerment, a world without princes. There is now a School for Boys, warring against the School for Girls. In order to set the world right again, Agatha must search her heart and decide who she truly wants for her Happily Ever After.
The Opening Line:There is an uneasiness that remains after your best friend tries to kill you.
What I Loved:A magical boarding school type setting. Schools of Good and Evil pitted against each other. A story steeped in fairy tales and mythology. And the hidden discussion of important social issues, like gender stereotypes and female empowerment.
What I Didn't Love: It felt too derivative of similar books. I kept thinking that Dean Sader reminded me of Dolores Umbridge, the Trial felt too much like the Triwizard Tournament, and the magic-based curriculum looked a lot like a typical Hogwarts student's schedule might. These things are all okay, but didn't seem as original as they could have been. Also, the plot was really dramatic. I wanted just one of them to be super smart, which would have ended the story much sooner.
Final Thoughts:I was frustrated a lot when characters couldn't see what was right in front of their eyes. But there were a lot of unique twists and hooks that kept me reading and invested in the story. I would recommend this series to fairy tale fans, but for everyone else, there are better fantasy series out there, at least in my opinion.