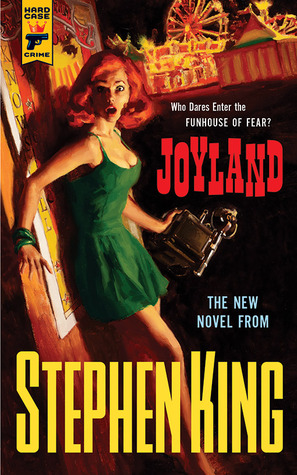 Joyland
Stephen King
2013 – Adult Fiction – Mystery
Rating: 4/5
The Story:In the summer of 1973, college student Devin takes a job at Joyland, the old amusement park situated along the Carolina coast. As a greenie (the new guy), he is given a host of miscellaneous odd jobs throughout the summer. He is also gifted with a ghost story by his landlady, that of a young woman brutally murdered by her older boyfriend in the House of Horrors just four summers ago. As the summer progresses, Devin experiences both magic and mystery at the park – and becomes a part of something larger than he can control.
The Opening Line:I had a car, but on most days in that fall of 1973 I walked to Joyland from Mrs. Shoplaw's Beachside Accommodations in the town of Heaven's Bay.
What I Loved:Most mysteries rely on a series of unbelievable coincidences or plot twists to bring their killers to justice. Joyland didn't. I never had an instance where I thought the plot couldn't have realistically occurred. I loved King's descriptions – I was transported to the park and the beach quite easily in my head. It seemed really realistic to me, like I could have visited the park in 1973 and I would have found there what Devin described in the book. And the plot was great. I love mysteries and this was a great one. It was intelligent and fleshed out – I felt Devin's pains and cheered for him to come out ahead in life.
What I Didn't Love:I felt slightly disjointed when reading a passage set in the park and then reading a passage written by adult Devin. I adjusted pretty quickly, though. Also, I didn't have a clue who the murderer was until all was revealed – I guess that speaks more negatively to me than to Mr. King, huh?
Final Thoughts:This was my first Stephen King novel. Having never read any of his more famous work, I'm glad I started with this one, if solely so that it doesn't have to stand of the backs of his previous work. For me, this was a great mystery. The story was presented in a straightforward manner, and very intelligently. So I'm glad I didn't have to compare it to Carrie or The Shining. I think that Joyland would appeal both to mystery fans and Stephen King fans. But if you've read King before, put aside your preconceptions from his other books – Joyland is so good, but you have to take it on its own!