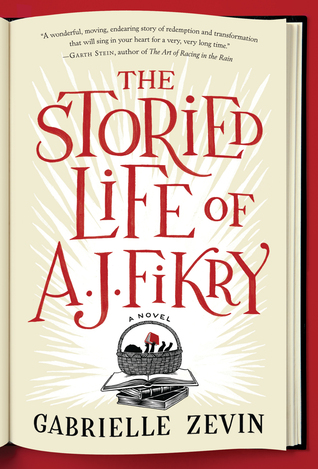 The Storied Life of A.J. Fikry
Gabrielle Zevin
2014 – Adult Fiction – Realistic Fiction
Rating: 4.5/5
The Story:A.J. Fikry's life isn't going as planned. His wife dies, someone steals his rare copy of Tamerlane, and an adorable toddler is abandoned in his bookshop. What's a man to do? With help from family and friends, A.J. turns his life around and lives out a story of hope, love and redemption.
The Opening Line: Wife kills husband with frozen leg of lamb, then disposes of the "weapon" by feeding it to the cops.
What I Loved:This is such a charming story! It felt comfortable, like an old friend or soft sweater or cup of hot cocoa on a snowy day. Books about books are my favorite, and the literary references are so fun!
What I Didn't Love:Why did that ending have to happen? Now my eyes are red and puffy and I can't breathe through my nose. Thanks a lot.
Fellowship of the Worms Questions:
1. First things first. How much did you love all the book references? A.J. was constantly talking about the books he carried in his store, the books he recommended to his customers, the books he despised. What was your favorite book reference moment?
I adore book references. I make so many in daily life (people think I'm such a book snob!), that it felt really natural to read about someone else doing the same thing. My favorite was the conversation between Harvey and A.J. regarding Infinite Jest. In A.J.'s words, "Infinite Jest is an endurance contest. You manage to get through it and you have no choice but to say you like it". That really made me laugh because I read Infinite Jest  quite recently as part of a reading challenge with my roommate Katie. We both finished it, and I really did enjoy it – at least, after I understand what he was talking about.
2. How much did you love the AJ and Maya relationship?
It was something I completely didn't expect to develop the way it did. I found it a little unbelievable that he was able to keep her and eventually adopt her, but it was an adorable relationship. I think it taught A.J. a lot about life and it was instrumental in softening and cracking open his hardened shell.
3. How did you like AJ and Amelia's love story? Did you find it believable that such an intense relationship could develop at a distance, especially considering the rocky start they had?
So good! I knew it was coming (eventually), but the journey was fantastic! I only wish he had softened sooner so they could have enjoyed more time together! And I think the intensity was totally believable. When two people are super passionate about the same thing, I think a great kind of intensity develops there!
4. The book Amelia first tries to pitch to AJ was marketed as the memoir of an old man falling in love and getting married late in life. It is later revealed that the "memoir" was a work of fiction by a young female writer. Do you find it problematic that a book be falsely promoted in such a manner?
I want to say yes. I throw so much of myself into whatever I am reading that it would feel like a betrayal if I found out that it was birthed in completely different circumstances. But it happens, and I can't change that. So I try not to worry about it too much.
5. It turns out in the end that Ismay stole AJ's copy of Tamerlane. Do you think his story would have gone the way it did if he'd been able to hold on to the valuable manuscript?
Eh, I think this could have gone either way. I assume Maya would still have been left in his shop, so she could still have worked her magic on him regardless. But I think losing Tamerlane was the catalyst that forced A.J. to look at life through a different lens. So it was probably for the best.
Friends, have you read this yet? It's super charming and fun and with tons of literary references and book goodness thrown in!