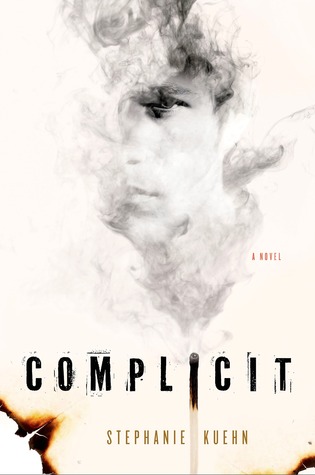 Complicit
Stephanie Kuehn
2014 – YA – Psychological Thriller
Rating: 5/5
The Story:When Jamie and Cate are children, they lose their mother, enter foster care, and are eventually adopted by the Henry family, a couple reeling from the loss of their own children. They grow up wealthy, cared for, and with all the advantages in the world. But behind the facade, things aren't so perfect.  Jamie suffers from severe anxiety, manifesting itself both mentally and physically. Cate is a wild child – drugs, alcohol, and crazy mind games with other girls in the woods come to define her. After serving a stint in juvie for burning down a farm and seriously injuring a girl, Cate is back in town. Her presence – and the truth she brings with her – have the potential to change everything Jamie ever thought he knew about his past…and himself.
The Opening Line(s):My phone is ringing. It's 3:29. In the morning.
What I Loved:Kuehn's writing style in Complicit reminds me a lot of when I read Neil Gaiman's Ocean at the End of the Lane. I would read for awhile, then stop and just marvel at how beautiful and well-written it was. In fact, I even made my roommate listen to me read various sentences aloud, gushing at how wonderful a certain adjective was or some such thing. Complicit affected me in the exact same way. I loved each and every sentence, how well-crafted each paragraph and chapter was. I really appreciated Kuehn's honest portrayal of mental illness, and what a crazy and chaotic effect it has on the mind and body. And I was completely undone by the conclusion of the book. So good!
What I Didn't Love:I honestly can't think of a single thing to write here. Seriously, what a great book!
Final Thoughts:I have a friend who has been diagnosed with anxiety disorders, so the book really resonated with me on that level. It gave me a small glimpse into what it must feel like to lead such a chaotic, unpredictable, and uncontrollable life. I think it was such a great decision to have Jamie play the role of unreliable narrator, which made the conclusion that much more powerful. When I finished the book, I literally curled into a ball on my bed, stared at the wall for quite a few seconds with speaking, and tried to pull my hair out. Even sitting here right now, I am angry and sad and chaotic. I want to buy 50 copies so that I can hurl them all across the room. But I am also thrilled, because Complicit exceeded my highest expectations! It's even better than Charm & Strange, in my humble opinion. Any book that can elicit such strong reactions from its readers deserves the highest praise, and this is one of those books. Friends, please just go read this. Like, right now. Seriously.
If you've read it, what do you think? You love it as much as me, right?