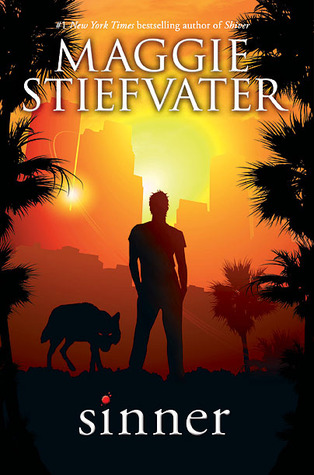 Sinner
Maggie Stiefvater
2014 – YA – Urban Fantasy
Rating: 4/5
The Story: If you've read Stiefvater's The Wolves of Mercy Falls trilogy, you will remember Cole St. Clair, a side player in the story of Grace and Sam. Well, Cole is back and headed to Los Angeles. Why L.A.? Two reasons. First, he has signed a deal with Baby North that will let him record an album while participating in a web show produced by her. And second, Isabel. Along the way, he hopes to find the true Cole St. Clair while releasing himself from some of the guilt he carries inside.
The Opening Line: I am a werewolf in L.A.
What I Loved: Stiefvater is one of my favorite authors ever, and her talent shines through in every single book that she writes. Sinner is a perfect example of this for several reasons. I laughed out loud a lot. I shared sentences from the book with my roommate. Cole's restlessness was captured so perfectly that I felt restless and chaotic while reading. Isabel's icy facade that hides her vulnerability made me flinch and evoked sympathy in me at the same time. Short cameos from Sam and Grace made this companion novel a great addition to the series. And the ending, while not as tidy and wrapped up as I usually prefer, really completed the book in a great way.
What I Didn't Love: I got really, really frustrated with both Cole and Isabel multiple times throughout the book. I could see the obvious solution (or at least a smarter action) for a situation, but the characters never took that route. This was probably contrived, to help bring out each character's flaws, but I got impatient with them. Like I would do in real life if I had friends like Cole and Isabel.
Final Thoughts: If you've never read The Wolves of Mercy Falls trilogy, but you keep seeing Sinner around, it's okay to read it as a stand alone novel. The trilogy provides some helpful back story for most of the characters, but I think Cole's story can stand on its own merits, if you have no desire to read the trilogy. Although I would highly recommend the trilogy as well, which has such a unique hook on the werewolf plot. The characters are well-written and the plot mostly believable. This is a great companion novel, and I recommend it for fans of werewolf stories, urban fantasy, or Maggie Stiefvater in general.