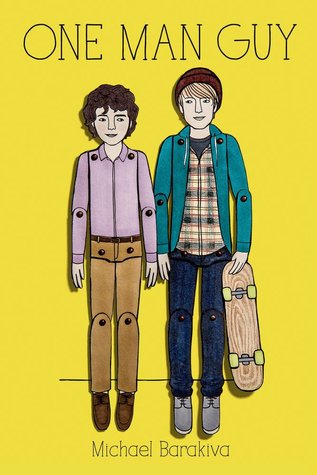 One Man Guy
Michael Barakiva
2014 – YA – Realistic Fiction
Rating: 3/5
The Story: When Alek's Armenian parents take him out for dinner one evening at the beginning of summer, Alek knows he's in trouble. After all, Armenian cooking is better than anything American restaurants have to offer. Turns out, his parents have placed Alek in summer school, hoping that he can retake two classes and raise his already good grades enough to earn him a spot on the school's Honor Track. Summer school means the family will go on vacation without him, he can't go to tennis camp, and he still has to do homework. But things look up after he meets Ethan, who convinces him to start living his life for himself.
The Opening Line: Alek stared at the menu suspiciously.
What I Loved: This novel holds a surprising amount of intelligence and wisdom. Barakiva obviously wasn't afraid to have his characters engage in deep and important conversations, and I really enjoyed those. All too often, characters speak shallowly and avoid important truths, but One Man Guy is just really honest and intelligent. It was also great to peek into the Armenian culture and learn a little bit about Armenian lifestyles and history. You don't often learn about things like the Armenian Genocide in your typical history class, so it's great when authors address topics that others try to hide, forget, or deny.
What I Didn't Love: Alek's parents are crazy unreasonable, his brother Nik is horrible to Alek, and Alek has a tendency toward whining. I really just wanted one stable, reasonable character, but at least in the beginning, that character didn't exist. In addition, it seemed like Alek didn't really have the struggle with his sexuality that a lot of people deal with, especially as they try to come to terms with coming out and what it means to be gay. After Becky suggested the idea to him, he realized it was true, his parents caught him with Ethan, and he was out. Does it ever actually happen like that in real life? I have no experience with this scenario, so I have no idea whether it's off or not.
Final Thoughts: Overall, a decent book. It wasn't my favorite ever, but I didn't dislike it. I enjoyed seeing Alek's process of learning about himself and learning how to express himself without conforming to his parent's exact specifications for him. I liked the unlikely love story between Alek and Ethan. I liked learning about Armenian culture. But ultimately, it's not one of those books that's going to stay with me for weeks. Take from that what you will.