For those of you who haven't heard (and why haven't you?), Isla and the Happily Ever After is coming out August 14! The much-anticipated third novel in the Anna and the French Kiss series by Stephanie Perkins, Isla and the Happily Ever After is the love story of Isla and Josh. And if you weren't excited enough already, the book will revisit former couples Anna and Etienne and Lola and Cricket!
In preparation for release day, several amazing bloggers have pulled together a read-along of all three books. It started on July 31 with Anna and the French Kiss and will take us through August 20, giving readers a week with each book. For more details, go here! Thanks to Andi's ABCs, Paper Riot, Cuddlebuggery, The Perpetual Page-Turner, and A Bookish Sinister Kid for hosting and to Meg from Cuddlebuggery for the great banner/button she created for the read-along!
I'm super excited for Isla, as Anna is one of my favorite books ever. I read it for the first time back in 2013 and decided to reread in preparation. The things you have to do when you have a terrible memory. Anyway, I've enjoyed it just as much, if not more, this time around. If you don't believe me, see my review below (some spoilers)!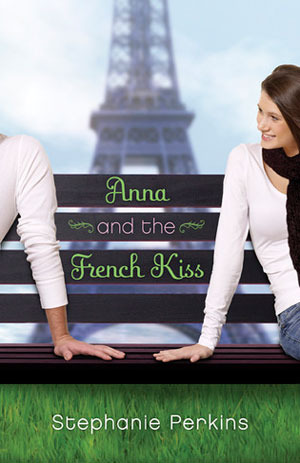 Anna and the French Kiss
Stephanie Perkins
2010 – YA – Realistic Fiction
Rating: 5/5
The Story: Anna Oliphant is majorly bummed when her rich father, a bestselling author, enrolls her in the School of America in Paris. She had plans for her senior year, but now everything is changing as she moves across the world. She doesn't speak French, is afraid to venture into the city on her own, and quickly falls for the most beautiful and unattainable guy in the school. Obstacles aside, this is a story about new experiences, classic cinema, and romance, set in one of the most beautiful cities on the planet. Don't even try to resist its charms.
The Opening Line: Here is everything I know about France: Madeline and Amelie and Moulin Rouge.
What I Loved: I'm a sucker for novels set in boarding schools. I'm a sucker for a good love story. And I'm a sucker for books in which the main characters travel to Europe and end up exploring, falling in love, finding themselves, and growing as individuals. I simply can't resist them. Anna and the French Kiss has these things in abundance. This is one of my favorite novels of all time, and one I will reread over and over again!
What I Didn't Love: I hate it when I know two characters are just made for each other, but I realize that before the characters themselves. So I'm pretty much screaming at them for part of the book to just go ahead and get together, already!
Final Thoughts: You haven't read this yet? What's wrong with you? Go on, get off the Internet and go pick up a copy of this. It's completely charming and has plenty of great stuff about Paris and young love and cinema. What isn't there to love? Also, we meet Isla for the first time in Anna and the French Kiss, which of course I didn't catch first time around. Super exciting! I'm starting Lola and the Boy Next Door hopefully tomorrow, and then Isla and the Happily Ever After sometime next week. Are you reading along too?