Welcome back to another installment of the Isla is Coming read-along! We're about halfway through, and many of us are in the process of reading or rereading Lola and the Boy Next Door. Isla and the Happily Ever After is set to release next Thursday, August 14, and I'm really excited to pick back up with Isla and Josh.
In the meantime, I'm content to look for cameos from my favorite characters in the first two books. For example, Isla and Josh both appear in Anna and the French Kiss, while Anna and St. Clair play fairly large roles in Lola. There is also a brief snapshot of Josh's family on the news as Lola is hanging out with her friend Lindsey. The overlap between the different couples is one of my favorite things about this series. I can look forward to seeing how things have progressed since the last book. Anyway, I just finished Lola and the Boy Next Door, so now I'm obviously in limbo as I wait for next week.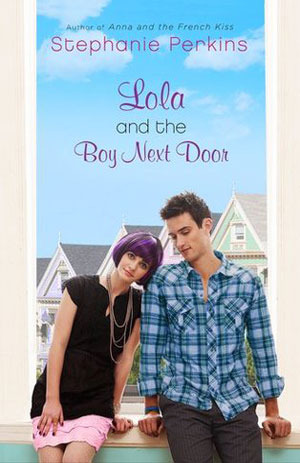 Lola and the Boy Next Door
Stephanie Perkins
2011 – YA – Realistic Fiction
Rating: 3.5/5
The Story: Lola Nolan has a talent for putting together fun, unique costumes that really express her personality. Cricket Bell is the boy next door, a scientist and inventor descended from Alexander Graham Bell, but forced to take the backseat in his family to his sister Calliope, a world-renowned ice skater. Cricket and Lola shared their first kiss at age 6, followed by many tumultuous years of something a little more than friendship, but not quite love. After Cricket moves away for two years, Lola starts dating bad-boy Max, much older and much more dangerous. Will Cricket's sudden return force Lola to face hard truths that she has always known?
The Opening Line: I have three simple wishes.
What I Loved: As in Anna and the French Kiss, I loved watching Cricket and Lola's love story come together. Mistakes, missed opportunities, and bad timing added some unfortunate obstacles to the mix, but my heart was cheering for Cricket and Lola to finally be together. I also loved that the book explored the idea that it is okay to embrace talents and live uniquely.
What I Didn't Love: Max. I instantly disliked the guy because he was rude, pushy, and fake. His personality was poisonous to Lola and brought her down instead of calling out the best in her. Also, this book didn't have the same charming vibe of Anna and the French Kiss.
Final Thoughts: I didn't enjoy this one as much as Anna and the French Kiss, but overall, I still liked it. After all, what girl doesn't dream of someone like Cricket, the sweet boy next door? And seeing Anna and St. Clair still as happy as ever made me happy. A good sequel and a great bridge to Isla and the Happily Ever After. Maybe the couples will all connect over the Olympics that Calliope qualified for?