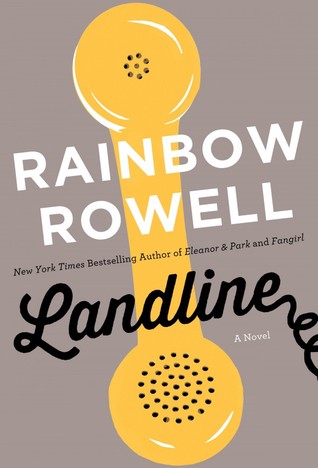 Landline
 Rainbow Rowell
 2014 – Adult Fiction – Romance/Realistic Fiction
 Rating: 4/5
I immensely enjoyed Rowell's two recent YA novels, Fangirl and Eleanor & Park. So when people began to buzz about Landline, I got excited! I checked back with my library multiple times until it finally became available to place on hold. Then I waited, eagerly tracing its progress as the queue got shorter and shorter. And last week, I received the email notification that it was waiting for me. It sat on my shelf for a couple of days while I finished other books, but Sunday morning I finally cracked it open. And then I couldn't put it down. I read all day, finishing it in one (long!) sitting. Is it my new favorite? No. But is it worth reading? Oh, yes. Yes it is.
The Story: Georgie and Neal don't have a perfect marriage. After all, who does? Georgie writes scripts for a popular sitcom while Neal is a stay-at-home dad to their two girls. After years of hard work, Georgie receives the opportunity she's always wanted – a chance to write her own show. The only problem is that the meeting with the potential producer falls on December 27. Georgie assumes she and Neal will cancel their trip to spend Christmas with his mom in Nebraska. But when he leaves with the kids while she stays behind, she fears that her decision has ruined their marriage. After many missed calls, Georgie finally connects with Neal using the old landline in her childhood bedroom. But it's not the Neal she knows now – Georgie is somehow dialing Neal in the past, when they were still college sweethearts. Can this tenuous connection save their marriage in the present?
The Opening Line: Georgie pulled into the driveway, swerving to miss a bike.
What I Loved: The premise of this book is so unique. It really made me think a lot about the possibilities of being able to change something in the past and how that would affect the present. In the book, Georgie struggled with calling Neal in the past, as she wasn't sure if it would change her marriage in the present. She was scared to accidentally push him away or change some crucial detail. So it was a really great hook. I also loved that the marriage seemed really realistic. Neither person was presented as perfect. Neal had a temper, and Georgie worked too much. They knew when they married that it would be hard. But they were willing to work on their marriage and stick together. It was a really unique take since the book world is flooded with stories of perfect couples and happily ever afters.
What I Didn't Love: Seth, Georgie's best friend and coworker, was really annoying and kind of immature. He pushed her past her breaking point, didn't seem capable of handling a serious conversation, and was obsessed with work. He didn't seem to realize that some things are more important than pursuing a career. I think I would have loved more character building in general. I read about a lot of characters, but I wish they were all really fleshed out – they were all so unique and quirky that I wish I knew more about them.
Final Thoughts: This book was worth waiting for. It was unique and fun, but addressed some serious topics on marriage, friendship, and parenting. Overall, it left me feeling satisfied and fulfilled. The story was great, the authenticity was refreshing, and Georgie was just a great character. I would definitely recommend this.