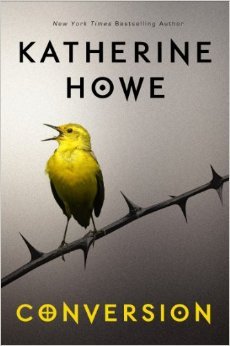 Conversion
 Katherine Howe
 2014 – YA – Realistic Fiction
 5/5
The Story: Senior year at St. Joan's Academy is filled with college applications, extra-credit assignments, class rankings, and boy drama. The pressure comes to a head when the most popular girl in school falls victim to a series of seizure-like occurrences, accompanied by verbal tics, shaking, and more. When the fits begin to spread to other members of the senior class, experts are called in to get to the bottom of the so-called "mystery illness". As senior year descends into chaos, Colleen begins to draw parallels with similar events that took place when the town of Danvers was still called Salem Village.
The Opening Line: How long must I wait?
What I Loved: The juxtaposition of a reputable private school with seemingly supernatural events was a huge draw for me, one of the reasons I picked up the book. The plot was intriguing, and Howe's technique of telling the stories of the Salem Witch Trials and the mystery illness of St. Joan's through alternating chapters really worked well in this case. I loved that Colleen as narrator seemed so steady throughout most of the book, but ended up being a fairly unreliable narrator, at least in my opinion. Howe has a gift for leaving readers intrigued and the book was paced really well. I couldn't wait for everything to wrap up and bring sense to everything that was happening. It was also interesting to read about conversion disorder, a mental disorder in which someone is literally so stressed that the body converts those stresses to physical symptoms. A lot of food for thought in this one.
What I Didn't Love: Two things really struck me as a little bit off. I wondered why Colleen and her classmates, who had supposedly just read The Crucible for class, weren't immediately drawing parallels with history. Also, a minor plot point that annoyed me was when Colleen asked Father Molloy about the rumor that the fits were just an allergic reaction to a vaccine. Father Molloy replied that he had heard the rumor but wasn't sure. It annoyed me because that possibility had been raised by none other than the school nurse at a school assembly prior to this conversation, but they didn't seem to remember that. Super minor, but a bit inconsistent.
Final Thoughts: I loved this book! I read Howe's other witchy book, The Physik Book of Deliverance Dane, several years ago and really enjoyed it, so I was excited for this one! It lived up to every expectation I had. And left me wondering about the outcome. Also, this book is based on two true stories. Obviously the first is that of the events that happened in Salem Village, when 19 people were executed as witches. The other is the outbreak of a mystery illness that struck a group of girls from Le Roy, New York in 2012 and that was later diagnosed as conversion disorder. In my opinion, this only makes the book more compelling. It's a fantastic and enlightening read, and aptly captures the emotions and pressures of teen girls trying to live up to expectations. A new favorite!