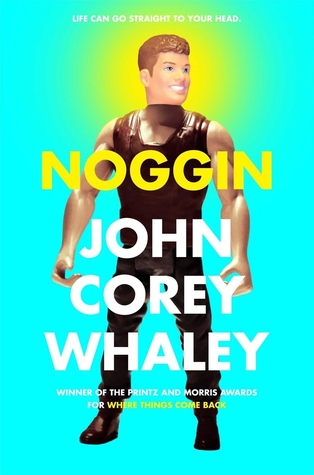 Noggin
 John Corey Whaley
 2014- YA – Science Fiction
 Rating: 4/5
The Story: Travis is dying. His body is riddled with cancer and there seems to be no hope. But when he is offered a second chance, he takes it. His head is lopped off and stored cryogenically until science catches up. And five years later, Travis wakes up, his head attached to a new body.
The Opening Line: Listen – I was alive once and then I wasn't.
What I Loved: Noggin deftly explores the heartaches and grieving processes that follow significant losses. With humor and wit, Whaley asks questions about how people move forward and cope with unthinkable pain. I laughed, then I cried. My heart ached for Travis as he tried to figure out how to live in a world that had moved on without him. And I ached for his friends and family, who grew older and grieved and coped and then had it all turned upside down when Travis returned. Noggin gave me all the feels.
What I Didn't Love: It was hard to watch Travis attempt to gain his girlfriend's affections back over and over throughout the book. It seemed a bit immature and overdone, but then again, Travis was still only 16 while Cate had aged to 21, found new love, and gotten engaged. Still, it was every few pages and took up a large portion of the plot. Also, Travis is a pretty pessimistic dude overall, especially for someone with a second chance at living cancer free.
Final Thoughts: I enjoyed this one. It raised some interesting thoughts and questions about how people grieve and how confusing it would be for all parties to adjust when a loved one thought gone forever suddenly comes back. I would definitely be interested in a sequel to see how Travis's life plays out. Hint hint, John Corey Whaley. This should happen.