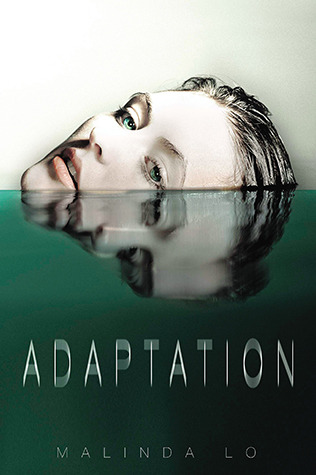 Adaptation (Adaptation #1)
 Malinda Lo
 2012 – YA – Science Fiction
 Rating: 4.5/5
The Story: Reese and her debate partner are stranded in an airport after dozens of planes crash due to attacks on the planes by flocks of birds. So they decide to rent a car and drive home instead. Things go awry when their debate coach is brutally shot at a gas station and then even more so when a bird flies into the car, causing an accident in which both Reese and David sustain serious injuries. They wake up at a military hospital a month later, fully healed. After returning home, Reese begins to have strange dreams, meets the enigmatic Amber Gray, and starts to uncover the mysteries of what exactly she experienced after the crash.
The Opening Line: The birds plummeted to the tarmac, wings loose and limp.
What I Loved: There are so many great things to love in this book. So let's talk about a few of those, shall we? The plot is really original and ties together a number of intriguing topics that often go hand-in-hand. Conspiracy theories, aliens, the possibility that our government is hiding things from the people. I really like conspiracy theories, so this was a perfect read for me. Characters were really well-developed and diverse as well. I liked the parallels between the relationships of Reese/Amber and Reese/David. Most GLBT characters are either straight up gay or straight up lesbian, so it was refreshing to read about a character who is bisexual. Especially the ease with which her sexuality was accepted by everyone, including her. It played a role, but was a non-issue, which was great. Finally, this novel is such a great example of science fiction worth reading. Original, fun, and potentially realistic.
What I Didn't Love: Okay, I've actually been thinking about this for the past 5 minutes or so, and I can't really think of anything I didn't like. The first half of the book I read rather slowly, but that was due to me being busy and that sort of thing.
Final Thoughts: I really enjoyed this book. I've read Malinda Lo's other books, Ash and Huntress, and really loved those as well. She writes really well, and Adaptation is no exception. It's a great sci-fi with amazing characters, an intriguing love triangle, and shockingly realistic writing about conspiracy theories and hidden government agendas. You can tell plenty of research went into this book. I would definitely recommend this for believers in conspiracy theories, sci-fi fans, and readers who want to see more GLBT characters in novels.