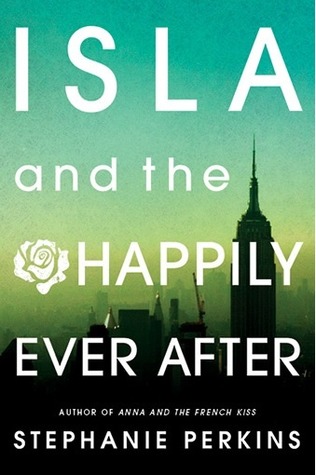 Isla and the Happily Ever After (Anna and the French Kiss #3)
 Stephanie Perkins
 2014 – YA – Realistic Fiction
 Rating: 4.5/5
The Story: One summer evening, Isla Martin has a chance encounter with Josh Wasserstein, a classmate she's been crushing on forever. Because she's still a little loopy from her dental surgery earlier that day, she flirts with him shamelessly. Later, when both return to the School of America in Paris, they hit it off and begin a whirlwind romance. But when faced with a variety of obstacles – friends, disapproving parents, the threat of expulsion – their relationship is tested to the limits.
The Opening Line: It's midnight, it's sweltering, and I might be high on Vicodin, but that guy – that guy right over there – that's him.
What I Loved: OMG, this is the perfect conclusion to the Anna and the French Kiss trilogy. It has everything I loved about the first book and more. Set against the backdrops of Manhattan, Paris, and Barcelona, it was a fun ride full of spontaneity, passion, and young love. The story rang true, the characters were well-developed, and character cameos from the previous two books brought this series full circle.
What I Didn't Love: I hate those times when characters bring about their own fates. Like, something is going great for them and they screw it up. I mean, I get it. It happens to all of us. I just hate reading it, powerless to do anything about it. Also, I really loved Meredith's character in Anna and in Isla, but I'm wondering why her story isn't more developed. I felt so bad for her, that she ended up alone, going to some school in another country, and we never really hear how her story ends. I would like to see her story. The story of the girl who welcomes new students with hot chocolate in her room, crushes on St. Clair for forever, and is ever-forgiving. More on her, please?
Final Thoughts: This is definitely a new favorite. This is the perfect conclusion to the trilogy, and wraps everything up so nicely. It was a fun, light read that accurately portrayed the trials and screwups of a young couple fighting for their love story. The characters jumped off the pages, demanding to be heard and cheered on, like all great characters do. After much waiting, I can say that this book is everything I hoped for and more.