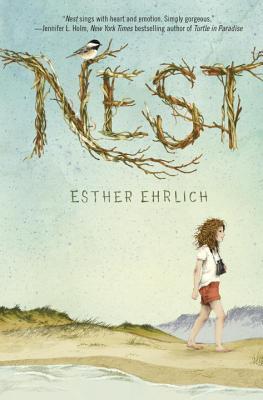 Nest
 Esther Ehrlich
 Release Date – September 9, 2014
 Source: NetGalley
I chose to read Nest for a variety of reasons – it caught my attention through a NetGalley email, Ehrlich has been compared to Jennifer Holm, this is a debut novel, and it looked like a great, heartwarming palate cleanser between other reads. It didn't take very long to read, only a couple hours or so. But now that I'm done with it, I don't exactly know what to do or think about it.
The story centers on Chirp, a girl of 11 who loves birdwatching, dancing with her mom, and cooking with her family. They live on Cape Cod and life is perfect. Until her mom begins showing symptoms of a deadly disease, followed by a deep depression that even Chirp's psychiatrist father can't fix. With tragedy looming, Chirp looks to Joey, the rough boy next door, for friendship and adventure, while her sister Rachel tries to hold the family together.
I appreciate Nest because Ehrlich is brave enough to tackle some very hard subjects. A lot of middle grade novels focus on fun and adventure, skimming over deeper topics. But Ehrlich takes on not just one deeper topic, but many, including living with a family member's disease, the onset and symptoms of depression, hidden abuse, and more. I have a degree in psychology, as well as a friend living with depression and PTSD, so some of these things felt really, intensely personal to me. Like how Chirp and Rachel try to cheer up their mom, but she doesn't take pleasure in anything. Like how wishing and hoping doesn't make anything better. I think Ehrlich really captured these feelings well.
Nest was also very educational. Similar to Jennifer Holm's The Fourteenth Goldfish, Chirp has a passion for science and nature. She spends much of her time birdwatching around Cape Cod. Ehrlich liberally sprinkle bird facts throughout the book, giving readers stimulating glimpses into environmental habitats and how birds live and survive. As I said before, we need more books that encourage girls to be passionate about science, and this is a great example.
Now on to why I'm confused. This wasn't exactly the heartwarming book I thought it would be. No doubt it was realistic. But I came out of the book just feeling sort of hopeless. Obviously, I can't talk a lot of specific plot here, but some things that I hoped would change didn't. Some characters I wished would grow and learn felt the same at the end. And I ended up feeling that yes, the family would survive, but I didn't feel great about how happy they would be. I may have missed something. Or maybe Ehrlich was just going for a super realistic take.
Overall, Nest was pretty good. Chirp's birdwatching passion, the realism of a diagnosis and living with disease and mental disorders, and the bits of adventure that were sprinkled throughout kept me reading – I felt like this book portrayed these things accurately. The pacing was good. But I was left confused and a little bit sad. And ultimately, that's what I think about as I write this post.
Rating: 3.5/5