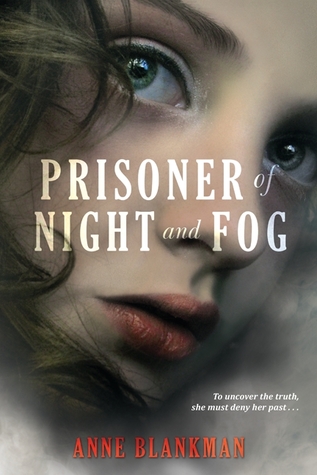 Prisoner of Night and Fog (Prisoner of Night and Fog #1)
 Anne Blankman
 2014 – YA – Historical Fiction
 Rating: 4/5
The Story: Gretchen Muller looks up to her Uncle Dolf. She doesn't think to question him or his ideas as he climbs the ladder to power in Germany after World War I. After all, he is an old family friend that has taken care of the family since Gretchen's dad died protecting him in a revolution years earlier. But not everyone agrees that he has great ideas. In fact, particularly to the nation's Jews, Adolf Hitler's ideas could be dangerous. As Gretchen begins to seek the truth about her father's death and Hitler's plans for the country, she seeks help from an unlikely source – a young, handsome Jew named Daniel who turns her ideas about Jews upside down.
The Opening Line: Gretchen Muller peered through the car's rain-spotted windshield.
What I Loved: There were a number of things about this book that I absolutely loved. In historical fiction, accuracy is always important, and Blankman did a great job here. Events and people are portrayed accurately, and where she added new characters or events, she explained her reasoning in the author's note at the end. I really learned a lot I didn't know about the events leading up to Hitler's rise to power. Gretchen's perspective, as someone close to Hitler, a German bred to hate the Jews, was really refreshing. When you think about books set in this time period, they are typically from the perspective of a Jew experiencing Hitler's hatred. So this was unique. Finally, I loved the writing. The story was well-written and paced extremely well. The setting was atmospheric, the characters fleshed out and dynamic, and the mystery of the death of Gretchen's father kept the pages turning for me.
What I Didn't Love: Hitler. Of course. Even though I've read my history, I wasn't prepared for this almost intimate portrayal of him. It worked really well, but Hitler as character is just creepy, lecherous, and disturbing. Although I should have expected that.
Final Thoughts: Books like this have played a large part in my changing opinion on historical fiction. I used to hate historical fiction because I found it boring. Now, I'm starting to love it. Blankman reminds me a lot of Elizabeth Wein – both authors have written novels that have intrigued me, shown me sides of history that I haven't seen a million times, and kept the pages turning. I feel hopeful about my future with historical fiction because of authors like them!