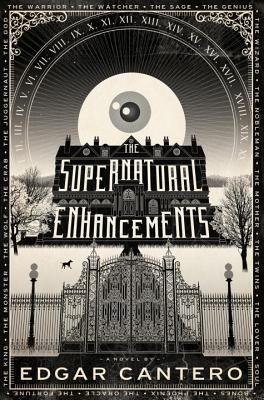 Title: The Supernatural Enhancements
 Author: Edgar Cantero
 Date of Publication/Age Group/Genre: 2014 – Adult Fiction – Paranormal
 Rating: 5/5
The Story: When A. gets word that his second cousin twice removed has committed suicide and bequeathed all his possessions to A., he inherits much more than the mysterious three-story mansion in Virginia. He also inherits the house's strange phenomena, rumors of a ghost, and vague hints about secret rites that take place in December. With the help of his companion Niamh, he must battle nightmares and follow the clues left behind in the house in order to solve the mystery.
The Opening Line: […] Axton House and all of its contents."
What I Loved: What do you get when you combine cryptography, secret societies, a global scavenger hunt, psychology, and a potentially haunted mansion? Yep, you guessed it. The Supernatural Enhancements is an amalgam of different genres and writing styles, all blended together to form an intriguing, unique story. Told through letters, telegrams, audio/video recordings, diary entries, and more, this is a masterpiece of storytelling. I felt like I was being given the keys to unlocking the mystery instead of having it all revealed to me in a straightforward manner.
What I Didn't Love: Some plot points felt unresolved. I wanted to know more about the ghostly figure A. keeps seeing around the house. Also, as great as that ending was, it left me with some unanswered questions. As in, I need a sequel to continue A.'s story. Plus, I don't think I have a mind for cryptography. Some of the ciphers left my brain muddled. I may have skimmed a couple of particularly dense (to me!) pages.
Final Thoughts: This was the perfect mix of spooky fun. It wasn't too terrifying for me to read alone at night, but I did get appropriately chilled at several points. The puzzles and mystery kept me reading, and the variety of storytelling devices kept the book fresh. The Supernatural Enhancements combined several of my favorite things and was the perfect read to kick off my spooky fall reading!