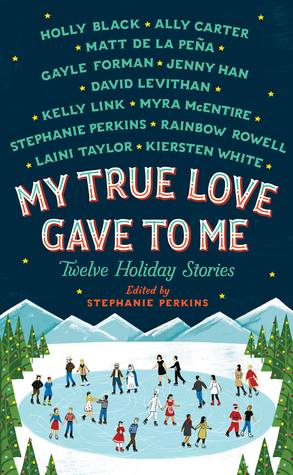 Title: My True Love Gave to Me: Twelve Holiday Stories
 Editor: Stephanie Perkins
 Age Group/Genre: YA – Short Stories – Mixed Genres
 Release Date: October 14, 2014
 Source: NetGalley
Last year around the holiday season, I read a fantastic collection of Christmas short stories. Well, I guess they were more like novellas. Three novellas, in fact, each written by an amazing author, all interconnected, all featuring one of my favorite restaurants in the entire world (Waffle House!). The book was called Let It Snow and the stories were written by Lauren Myracle, Maureen Johnson, and John Green. I maybe fangirled over it just a little. By a little, I mean A LOT. It was probably my favorite book around that time.
So earlier this year, I was browsing on Goodreads and found this little title called My True Love Gave to Me. It immediately captured my attention. More holiday stories written by the best of the best in the YA world? Sign me up! Sadly, they don't have that same appeal of all being connected – this is truly an anthology of short stories across all genres and winter holidays.
I sometimes have this thing with short stories where I don't like them. There isn't enough time to truly build an amazing world, to give me dynamic characters and fun settings and make me invest. With most stories in the collection taking place in the space of a few hours or days, it feels like I've just been given brief snapshots to peek in on what's happening. I love the longevity and investment of longer works. And I've never met a short story that didn't wrap up either really neatly or really abruptly. One of the things I disliked about some of the stories in the collection is that I would finish the paragraph, click onto the next page, and there was a new paragraph. I didn't feel closure.
For all my struggles with short stories in general though, this was a fairly enjoyable collection. Some of my favorite authors of all time are included. And you could see their signature styles even in the space of just a few pages. The stories were a great mixture of genres, winter holidays like Christmas or Hanukkah or Winter Solstice, and diversity. Different religions and cultures were represented, and many had subtle (or not so subtle) traces of mythology and lore that went far beyond the traditional Santa Claus story. So it was definitely a unique collection. Want proof? Here's the list of stories and authors included:
1. Midnights – Rainbow Rowell
2. The Lady and the Fox – Kelly Link
3. Angels in the Snow – Matt de la Pena
4. Polaris is Where You'll Find Me – Jenny Han
5. It's a Yuletide Miracle, Charlie Brown – Stephanie Perkins
6. Your Temporary Santa – David Levithan
7. Krumpuslauf – Holly Black
8. What the Hell Have You Done, Sophie Roth? – Gayle Forman
9. Beer Buckets and Baby Jesus – Myra McEntire
10. Welcome to Christmas, CA – Kiersten White
11. Star of Bethlehem – Ally Carter
12. The Girl Who Woke the Dreamer – Laini Taylor
As with any short story anthology, the stories were hit and miss for me throughout my reading. The great thing about that is that if you don't like one story, BAM! You're onto the next! Quick and simple. But there really is something for everyone. My favorite stories in the group were written by Rainbow Rowell, Stephanie Perkins, Gayle Forman, and Kiersten White. I mean, are we really surprised? Like I said before, the best of the best.
Overall, this is a good collection. If you love YA and you love Christmas and you love magic and romance, this is for you! If not…well, more Christmas cookies for the rest of us! 🙂