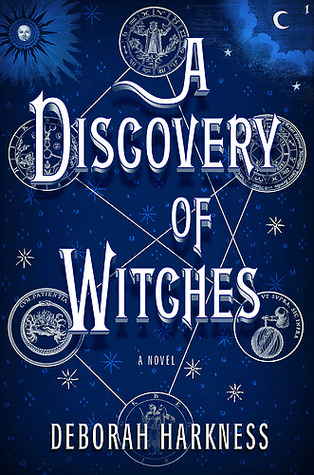 Title: A Discovery of Witches
 Author: Deborah Harkness
 Published/Age Group/Genre: 2011 – Adult Fiction – Paranormal
 Rating: 4/5
The Story: When Diana Bishop puts in a request at Oxford's Bodleian Library to view a rare manuscript, all she wants is to get some work done for the conference she is going to present at. But suddenly she is swept into a mystery older and more important than anything she has ever encountered. She quickly learns that she is the first person to see the manuscript in hundreds of years – and when she sends it back into the library, it goes back into hiding. Now surrounded by vampires, witches, and daemons – all who want to know the manuscript's secrets – she must confront her identity as the last of the famous Bishop witches, learn to use her magic, and navigate a forbidden relationship with the handsome vampire who is lurking on the edges of her life to protect her.
The Opening Line: The leather-bound volume was nothing remarkable.
What I Loved: This book is so complex. It weaves together science, history, and ancient arts like alchemy easily, making me work to understand the connections between all three. Another plus is how everything revolves around an ancient, enchanted manuscript that has hidden itself deep in Oxford's Bodleian Library. I love books about books. The plot winds through time and has a unique system for magic, bringing together myth and realism in a a striking compare/contrast that left me on the edge of my seat.
What I Didn't Love: Matthew and Diana's relationship troubled me for a lot of reasons. No matter how much I learned about vampire pack dynamics, that didn't help ease my discomfort as I watched Diana take a backseat to Matthew's control and anger time and time again. He often tried to use fear and manipulation as a means of control – something that is never okay. Here's hoping their relationship improves in future books.
Final Thoughts: I've read this one before, but I haven't read the third book in the series, so I reread as a refresher. I'm glad I did because of the complex events and connections. While there were a couple things that troubled me, I do like the book a lot. It's a good R.I.P. IX read without being too scary – perfect for this time of year.