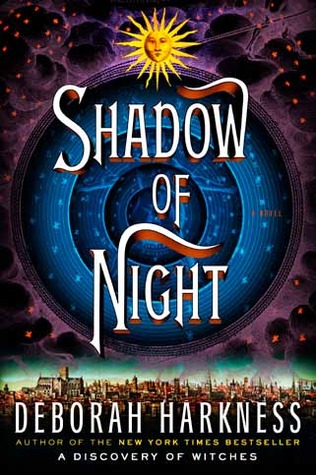 Title: Shadow of Night (All Souls Trilogy #2)
Author: Deborah Harkness
Published/Age Group/Genre: 2012 – Adult Fiction – Paranormal
Rating: 4/5
The Story: Matthew and Diana travel back in time to try to solve the mystery of Ashmole 782 and find a teacher for Diana who can help her understand her powers as a witch. But they run into unexpected problems from every corner. Matthew's father doesn't approve of their marriage. Matthew's job as spy and informer for the queen creates diplomatic complications. And the mysterious School of Night – which includes such illustrious figures from history as Christopher Marlowe, Henry Percy, and George Chapman – must come to terms with a completely different Matthew than they thought they knew.
The Opening Line: We arrived in an undignified heap of witch and vampire.
What I Loved: Can you say historical figures? Everyone from Queen Elizabeth I to Walter Raleigh to William Shakespeare made an appearance, and it was marvelous. Time travel books are always fun because the characters end up changing history every single time. And I love that. So this was fun. Also, the relationship issues that I had from the first novel are almost nonexistent in this book. There was still a struggle for control, but there was much more honesty and sharing of secrets and independence from Diana, so I feel better about it.
What I Didn't Love: Honestly, this book was kind of dramatic. And busy. Just when Diana and Matthew figured one thing out, Matthew got summoned to fix another problem. I kind of have a headache now just from the sheer complexity of everything that happened. It was hard to keep up with how everything connected.
Final Thoughts: This was a solid second entry into the series. There was plenty of character development from both main characters. The historical element and all those cameos were just plain fun. While it was complex and long and took forever to read, it was worth it.