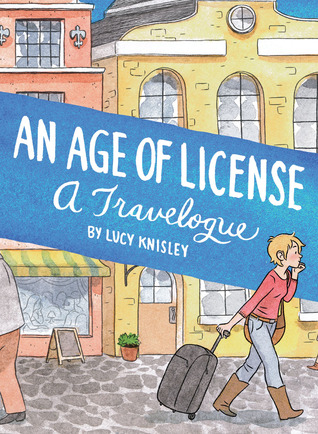 Title: An Age of License: A Travelogue
 Author: Lucy Knisley
 Published/Age Group/Genre: 2014 – Nonfiction – Travel/Graphic Novel/Memoir
 Rating: 4/5
The Story: In 2011, Lucy Knisley was invited to speak at a comics convention in Norway. In addition to Norway, Lucy decided to take a small tour of Europe to visit friends and family. She chronicled her journey and the things she learned and experienced in a graphic travelogue.
The Opening Line: 2011 was a year of travel!
What I Loved: I've read most of what Lucy has written, I think. Lucy is just a little bit older than me, which makes her instantly relatable. Her books tackle questions that a lot of people in their 2os have. For example, what is this whole adult thing about? What if I mess up? What if I end up alone? She's really honest and transparent in her work – I always come away feeling a little bit wiser.
What I Didn't Love: Sometimes her books feel a little disjointed, this one included. Getting distracted and going off on tangents is okay, but it can detract from the book as a whole.
Final Thoughts: This is apparently part of a paired travelogue. So hopefully I can read Displacement soon. Age of License won my heart with its pictures of Europe and Lucy's wisdom, but felt a little nonlinear and distracted in places. Still, she is maybe my favorite comic artist/graphic novelist, so I'm going to continue to read everything she writes!