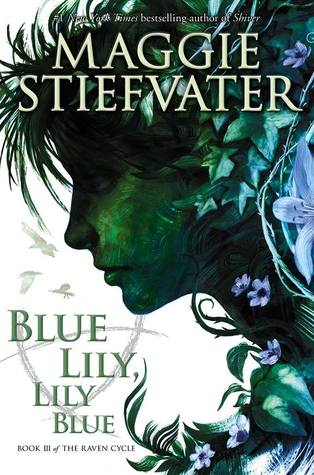 Title: Blue Lily, Lily Blue (The Raven Cycle #3)
Author: Maggie Stiefvater
Age Group/Genre: YA – Fantasy/Paranormal
Release Date: October 21, 2014
Source: NetGalley
I read The Raven Boys around the time it came out, and it combined some of my favorite things in the entire world – ghostly happenings, boarding school, and an epic search. When The Dream Thieves released, I reread The Raven Boys in preparation and loved it again, maybe even more. This time around, I didn't get a chance to reread, so I was a tad confused as I tried to pick up the story and remember what all had happened. However, I didn't let that stop me from diving headfirst into one of my most anticipated books of the year.
Blue Lily, Lily Blue picks up shortly after Maura's disappearance into the caves to search for Blue's father, Artemus. In addition, Ronan is dealing with his ability as a dreamer, Adam is adjusting to his hard-earned independence from his dad (not to mention his bargain with Cabeswater), and Blue and Gansey are hovering on the brink of a forbidden romance, as it was foretold that Blue would kill her true love with a kiss. Throughout Blue Lily, the search for Glendower, plus Maura and Artemus, continues, with new clues bringing the group ever closer to solving the age-old mystery of the ley line.
This entry into the series had a lot going on. Several new characters were introduced, and a complex host of interconnected storylines sometimes made it a bit hard to keep up. But as I read along and saw how everything began to weave together, Stiefvater's magic was on display. Everything about this book was a joy to read – the journeys of self-discovery taken by the group, the pain and disappointment and fear that made the characters feel real, the joyous discoveries that made the search worthwhile. My anticipation ramped up throughout as I wished for answers. And the ending left me breathless with yearning for the final book.
Compared to the other two books in the series, this one was much scarier. There were moments when I actually felt afraid in real life. The atmosphere was dark and foreboding and lovely. Perfect for this time of year, Blue Lily, Lily Blue absolutely blew me away! My only wish now is for the final Raven Cycle book – not that I want my time with this series to be over, but I can't wait to meet up with the group again and solve the mystery. I had high hopes for this book, and I'm not disappointed! I love this book!