The Mystery of the Grinning Gargoyle (The Boxcar Children #137)
Created by Gertrude Chandler Warner
Rating: 3/5
I first encountered the Boxcar Children when I was really young. I devoured every single title I could get my hands on, and I loved going on adventures and solving mysteries with the four siblings. I even discovered a love for cheese and tomato sandwiches after the kids ate them in one of the books. So my nostalgia for this series is HUGE! I haven't read all of them, but I intend to. If I see a new adventure in the library, I pick it up. And even though it isn't good in the same way that great literature is GOOD, I still love this series. Each iteration is fast and fun and takes me back to childhood. In this one, the siblings and their grandfather visit his alma mater, where someone is trying to stop construction of a new library by scaring people away with a fake gargoyle. What can I say? It's a mystery.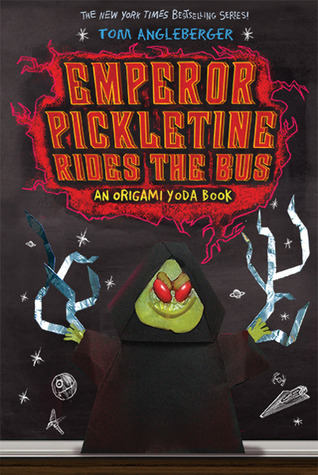 Emperor Pickletine Rides the Bus (Origami Yoda #6)
Author: Tom Angleberger
Rating: 3.5/5
For reluctant young readers who also appreciate a good Star Wars reference, I highly recommend the Origami Yoda series. The series revolves around a group of middle school students who learn to build their favorite Star Wars characters out of paper. They come to rely on their origami creations for words of wisdom to help get them out of sticky situations. Each book is written as a casefile chronicling their adventures. In this installment, the group is on a field trip to Washington D.C., where chaos ensues because of Principal Rabbski's no origami rule. In the same vein as Captain Underpants or Diary of a Wimpy Kid, this series is chock-full of drawings and plenty of humor.
Flashpoint (The 39 Clues Unstoppable #4)
Author: Gordon Korman
Rating: 3.5/5
Stumbled across this one in the library the other day, swore under my breath, and grudgingly checked it out. Is the 39 Clues series ever going to end? Don't get me wrong – they are fast and peppered with art, science, history, culture, and enough danger and excitement to please any young reader. So that's why I keep reading. But seriously. What else could possibly happen to these poor kids to merit more books? In Flashpoint, the kids are on the search for the last ingredient to the antidote. They are also crafting a plan to stop ruthless Rutherford Pierce, who wants to win the Presidency before taking over the entire world. So yeah. More globetrotting to save the world happens. And it is fun. And that's really all I have to say about this one.