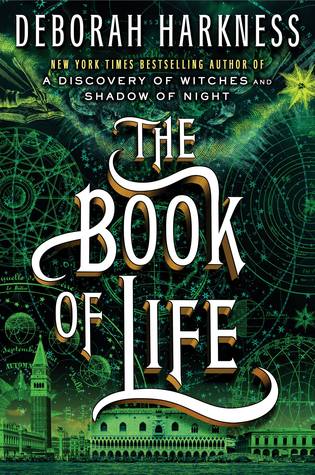 Title: The Book of Life (All Souls Trilogy #3)
 Author: Deborah Harkness
 Publish Date/Age Group/Genre: 2014 – Adult Fiction – Paranormal
 Rating: 3/5
The Story: Matthew and Diana return to the present to find their world in turmoil. A sudden loss, the reappearance of a figure from the past, and the news that Matthew's son Benjamin is on a killing spree launch the couple into action to find the Book of Life and restore it.
The Opening Line: Ghosts didn't have much substance.
What I Loved: I always like to see how an author weaves multiple complex story lines together to create a thrilling conclusion. I would say that Harkness did a pretty good job here. I didn't see the ending wrapping up the way it did, but it was a good one. And there were some good messages here also, messages of tolerance and togetherness and hope.
What I Didn't Love: My feelings throughout the majority of the book were that the story was just too complex. It almost felt like too much unnecessary drama, like not a single character could get even the smallest break. Just as I understood one piece of the puzzle, something else came along to demand my attention and create action. By the end of the book, I was ready to take a nice, long, peaceful vacation. Plus, some of the things that happened reminded me a bit of the plot of the last Twilight book.
Final Thoughts: If you are looking for a complex story with lots of art and history and a complex story, this series is definitely for you. If you like witches and vampires and the supernatural, this series is also for you. I'm glad I took the time to read these books, although I most likely won't be reading them again.