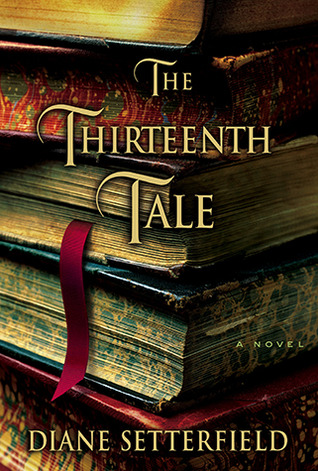 Title: The Thirteenth Tale
Author: Diane Setterfield
Publish Date/Age/Genre: 2006 – Adult Fiction – Realistic Fiction
Rating: 4.5/5
The Story: Vida Winter made a name for herself by writing books that held readers entranced. But the woman herself is a mystery. Over the years, Winter gave journalists and reviewers many different accounts of her life story, all false. But now she is old, ill, and dying. And she wants her story told. Margaret Lea, a biographer and assistant in her father's bookshop, is chosen for this task. But as she listens to the famous author weave one final tale, she realizes that nothing is at it seems.
The Opening Line: It was November.
What I Loved: This tale was shrouded in mystery. The air of suspense and and the intricate plots twists and shifts left me putty in Setterfield's hands. In a happening that is all too rare, I was sucked into this story completely, thanks to Setterfield's beautiful and evocative writing style. I care for the characters, suffered in their pain, rejoiced in their happy moments. This book was simply a delight to read.
What I Didn't Love: I spent most of the book confused and trying to piece things together. Eventually I just stopped and let the author do her thing. It got a lot easier after that.
Final Thoughts: For whatever reason, I've put this one off for years. Even after buying it for $1 at Half Price Books, it still languished on my shelf, a victim of my "I'll get to it later" mentality. Thanks to Carl's R.I.P. IX Challenge, I finally pulled this down, dusted it off, and cracked it open. Jane Eyre fans will love this one, as will armchair detectives. The Thirteenth Tale really deserves all the praise it's received, and I highly recommend it.