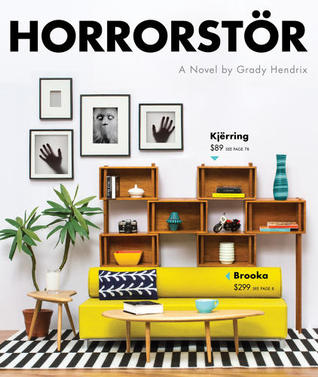 Title: Horrorstor
 Author: Grady Hendrix
 2014 – Adult Fiction – Horror
 Rating: 3.5/5
The Story: Someone (or something) has been roaming the massive Orsk retail store during the long, dark hours of the night. Each morning, employees come in to find graffiti on the walls, broken merchandise, and more. Security footage reveals nothing. So manager Basil recruits a group of employees to work an overnight shift, in hopes of finding the culprit.
The Opening Line: It was dawn, and the zombies were stumbling through the parking lot, streaming toward the massive beige box at the far end.
What I Loved: Amy as main character is great. She's my age, and has some spot-on thoughts about life and the depressing realities of adulthood. She's much like many millennials in their mid-twenties – stuck in a dead-end job, scraping to get through the month, wondering if there's more to life. My favorite line in the whole book is something I've wondered to myself many times. For context, Amy is sitting outside Basil's office, wondering if she is about to be fired. Her head is spinning as she thinks about life and bills and responsibility. Then, this gem of a line: "She didn't expect life to be fair, but did it have to be so relentless?" The book is full of these wry observations, almost making me feel as if the author was in a slightly self-mocking mood when he wrote this.
What I Didn't Love: Think of the all the words that could possibly describe a B-list horror movie. Campy, gory, cheesy, dramatic, unbelievable, satirical, mocking, over-the-top, parody. These are the words that come to mind when I really think about Horrorstor. I couldn't figure out if this was brilliant or meh, but I ultimately decided on the side of meh.
Final Thoughts: I ended up splitting my rating because the plot itself ultimately didn't impress me. The blood and gore and over-the-top, unbelievable theatrics aren't my kind of thing, but I loved the satirical tone and Amy's thoughts on life, retail, and more. It was a fun read, don't get me wrong. And unbelievably quick – I read this bad boy in just a few hours. If you love B-list horror, this is probably perfect for you. Even so, it's still worth a read, just for the originality.