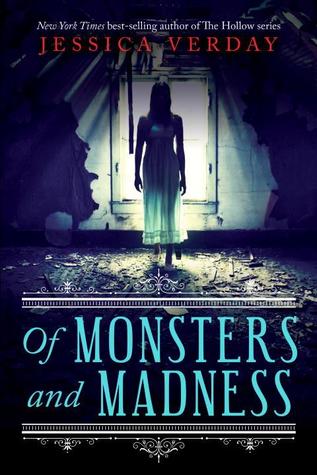 Title: Of Monsters and Madness
 Author: Jessica Verday
 2014 – YA – Horror/Gothic
 Rating: 3/5
The Story: After Annabel Lee's mother dies, she leaves Siam and heads for Philadelphia to live with her father. Arriving amidst a rash of strange, gruesome murders, she is told not to question her father's mysterious work. After witnessing odd deliveries in the dead of night, interacting with her father's two lab assistants (Edgar and Allan Poe), and befriending one of the household servants, Annabel begins to put the pieces together as to what's really happening in a house full of secrets.
The Opening Line: My breath is quick.
What I Loved: I wanted to read this around Halloween after seeing it featured on one of Teen Librarian Toolbox's Take 5 lists. Buuttt…life happened, plus I was reading so much other stuff that I just couldn't. Initially, it was the literary premise (ya know, the whole Edgar Allan Poe/Annabel Lee thing) that got me interested. Poe's works are heavily referenced, as is The Strange Case of Dr. Jekyll and Mr. Hyde. There are also plenty of Gothic elements, and a ton of murder, so if you like that kind of thing, it's all here.
What I Didn't Love: I found myself disappointed after finishing the book. I've read so much great Gothic-y type stuff that Of Monsters and Madness almost felt like Gothic lite. It also really didn't feel all that original. Great premise, but not so great delivery. I was heavily reminded of Poe and Robert Louis Stevenson (obviously!), but I also saw traces of Frankenstein and The Island of Dr. Moreau. It was easy to compare this book to other recent (and in my opinion, better) YA titles, such as The Madman's Daughter.
Final Thoughts: I'm pretty divided on this book, actually. It wasn't the worst thing I've ever read. It wasn't the best thing I've ever read. But I was entertained. And I read it over the course of a few hours, so it wasn't a huge waste of time either. In full disclosure, I'll go ahead and say I will probably read the rest of the series. I want to know what happens…and I'm just a completionist.