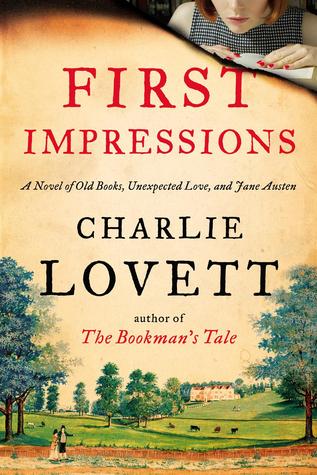 Title – First Impressions: A Novel of Old Books, Unexpected Love, and Jane Austen
  Author – Charlie Lovett
 2014 – Fiction – Mystery
 Rating: 4.5/5
The Story: A dual narrative, this is the story of both Jane Austen and Sophie Collingwood – and how they're connected. Sophie, fresh out of graduate school and grieving for her recently deceased uncle, takes a job at a bookshop as she tries to figure out what to do next. When not one, but two, customers inquire after the same unknown manuscript (an obscure 2nd edition of clerical allegories), Sophie is drawn into a mystery that reaches back into literary history – and threatens the reputation of her beloved Jane Austen.
The Opening Line: Fond as she was of solitary walks, Jane had been wandering rather longer than she had intended, her mind occupied not so much with the story she had lately been reading as with one she hoped soon to be writing.
What I Loved: Mystery and intrigue within the world of rare books has always been an interest of mine. I think in a different life, I would have taken the opportunity while getting my Library Science degree to specialize in rare books instead of youth services. Why didn't I???? Anyway, this novel had plenty of mystery, was sprinkled liberally with Jane Austen, and read as a love letter to books and book collecting. These are things I love, so I knew I couldn't go wrong here.
What I Didn't Love: It wasn't too hard to figure out who the villains were, their motives, and the overall trajectory of the mystery. Plus, Sophie was really lucky. Having only worked in a bookshop for a couple weeks, she was able to track down long-lost and unknown clues, find an extremely rare volume, and solve a literary puzzle that literally made her rich and famous in the book world. I had to remind myself to put plausibility to the side and just enjoy the story.
Final Thoughts: After reading and loving The Bookman's Tale, I knew I would be on board for First Impressions. And for the most part, it lived up to my expectations. It was fun and literary and nerdy and quirky and scary all at once. I read it in about two sittings, eager to join Sophie in her bookish adventures. And though I had to press pause on the subject of reality, that was ok. Now, when is Lovett gonna tackle his next literary subject??