A young woman travels with her grandmother to Warsaw to hopefully reclaim some property from before World War II. However, all doesn't go as planned as she encounters an unexpected source of romance and realizes that her grandmother may not be telling the whole truth about their family history.
So this was on my Goodreads TBR, but when I was scrolling through my graphic novels shelf, I couldn't remember exactly why I wanted to read it. Unfortunately, I still can't. But I'm glad I discovered this, because it was a really touching story. I'll admit that at times I didn't really understand the cultural references or the whole idea of the property law, and I spent most of the time wondering what the heck was going on, but overall, I really enjoyed this. I don't usually read too diversely, unfortunately, but it's something I should do more of, if this book is any indication!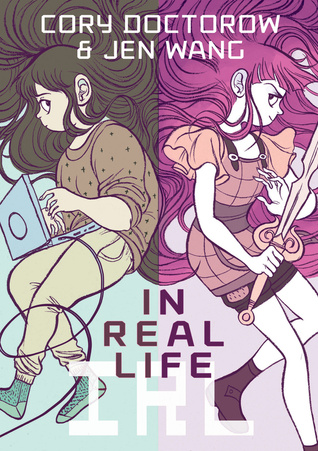 After a guild leader from the world of Coarsegold Online visits Anda's school to recruit new guild members, Anda gets sucked into the game in a big way. Coerced into doing paid missions to wipe out in-game gold farmers, she quickly learns that her virtual actions often have real life consequences.
I'm not a huge fan of Cory Doctorow. Don't get me wrong – I've read several of his books and I appreciate the work he's done to write about technology and how it affects us. That being said, I often find his books a little too over my head, a little too technical, and not personally engaging enough for me to love. This was a different experience, however. I'm a gamer, and although I don't understand the world of the MMORPG, this really resonated me with me. And ultimately I came away knowing that I live in a world of privilege, where I can play just for the fun of the game, a lesson I probably needed to hear.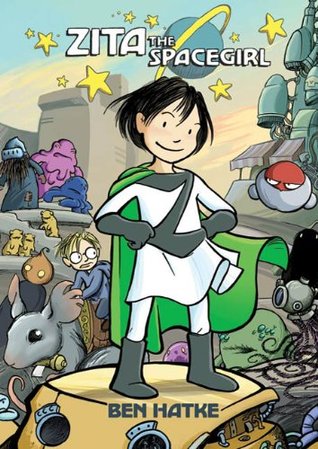 Zita and Joseph stumble across a meteor in a field – and of course, Zita's curiosity gets the best of her. She can't control her urge to push the mysterious red button she finds in the meteor strike area. When she does, a portal transports both her and Joseph to another world, where Joseph is immediately kidnapped. Zita and her new friends must work together to find and save him before it's too late.
It seems like every time Goodreads recommends a graphic novel for me, this is on the list. So I finally took the plunge and read the first book. My immediate thoughts are that Zita is quirky and spunky, perfect for a kick-butt heroine and role model to younger girls. She is resourceful, brave, and loyal, qualities we all strive for. This installment reminded me quite a bit of Jeff Smith's Bone series. I guess it's the theme of being an outsider in a new place and working to get back home. I have the next two books on hold at the library and I'm looking forward to following Zita's adventures.