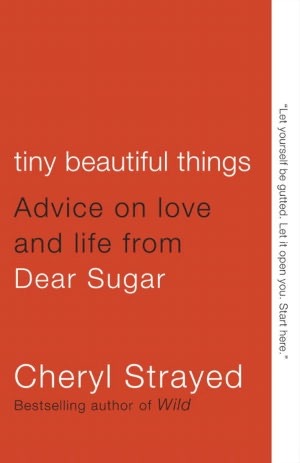 Title – Tiny Beautiful Things: Advice on Love and Life from Dear Sugar
 Author – Cheryl Strayed
 2012 – Nonfiction
 Rating – 4/5
The Premise: Tiny Beautiful Things is a collection of some of the best letters and replies from Cheryl Strayed's online Dear Sugar advice column.
The Opening Line: What is this book? It's a selection of Dear Sugar columns.
What I Loved: I frequently found myself reading a snippet out loud to one of my roomies because Strayed's advice just seemed so relevant and wise. I loved that she shared bits of her own life as examples. I also loved that she didn't offer advice for the easy way out, but that she offered tough love and real, practical solutions.
What I Didn't Love: Sometimes the stories she chose to share from her own life didn't seem the most relevant for that letter. And sometimes I think she came off as a little bit harsh, even with all the endearments.
Fellowship of the Worms Questions
1. Did you ever read the "Dear Sugar" column on The Rumpus or frequent any other advice columns?
Nope. In fact, I had never heard of either Dear Sugar or The Rumpus before reading this book. As for other advice columns, do those late-night radio shows count? Sometimes I listen to those if they happen to be on when I'm driving and I'm too lazy to flip through the stations.
2. Sugar uses a lot of terms of endearment in her responses. Do you like them? Does it bother you when you're addressed with a term of endearment in real life? 
In the book, it didn't bother me at all. In fact, I sometimes thought it extremely helpful, as some of her advice could be taken as rather harsh without the endearments. In them, I saw compassion and love and a true desire to help the letter writers out of their sticky situations.
In real life, it depends on who the endearment is coming from. My roomies and I have fond nicknames for each other, which I love. Coming from friends and family, endearments are great and show me that I am loved and cherished. However, coming from anyone else, it sounds condescending and snarky and fake. So I have mixed feelings.
3. Did any of the advice/questions make you uncomfortable?
Not really. I mean, the beautiful thing about humanity is that we aren't perfect. We are all messy and imperfect and awkward and tense and all of those things. And it's those things that tend to get us into hard, screwed up places. If these stories had made me uncomfortable, I would have felt hypocritical, as I've been in quite a few messes myself. That being said, I felt incredibly sad reading through most of them. And blessed – at least for the moment, my life is pretty good.
4. Did any of Sugar's advice resonate with you?
Heck yes! Funnily enough, it reminded me a lot of what I hear at my church. That you can be loved and messy and human, but you still have to want change enough to do the work to make it happen. Strayed's common sense advice and practical solutions made me really happy!
5. Strayed infused the "Dear Sugar" column with a heaping helping of memoir. Did her personal anecdotes add or detract from the advice she was trying to give to her readers?
I loved her stories. I think when we reach out to other people for a listening ear and some good advice, we want to know that they've been through something similar, so they have expertise in our problems. Or even if the situation isn't identical, we want to know we are talking to someone who has faced struggles of their own and overcome them. That they have learned and grown from their past and are now a better person because of it. Strayed's personal stories infused a level of expertise and compassion and absolutely added to the advice she gave.