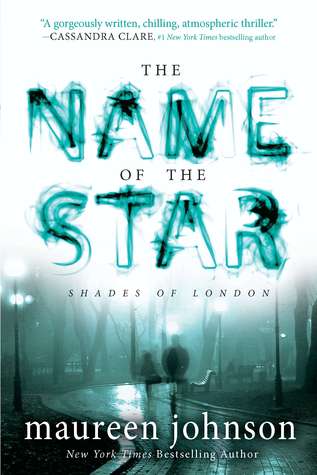 Title: The Name of the Star (Shades of London #1)
 Author: Maureen Johnson
 2011 – YA – Supernatural Thriller
 Rating: 4/5
The Story: When her parents take a sabbatical to England, Rory gets the opportunity of a lifetime – to enroll in a boarding school in London for her senior year. But shortly after she arrives, a woman is found viciously murdered in the style of the Jack the Ripper murders. When the murders continue, Rory is sucked into the investigation due to her brush with a mysterious man on campus late one night.
The Opening Line: The eyes of London were watching Claire Jenkins.
What I Loved: This book has a few of my favorite components – Europe, a boarding school, a budding romance, a supernatural element, and a thrilling mystery. So it's pretty much a home run for me. I love Maureen Johnson anyway, so I pretty much read whatever she writes, but this one is especially good, as it's dark, chilling, and a tad bit scary.
What I Didn't Love: I've read this before, and I just remember liking it a bit more than I did during this read. I don't know why. I remember it being a tad longer and more engrossing than this go-around.
Final Thoughts: I read this again in preparation for the publication of the third book in the series. It was a really quick and enjoyable read, and I'm more excited than ever to read the next installment. This isn't my favorite book of Johnson's (that honor goes to 13 Little Blue Envelopes), but this is close, and if you've never read her work, it's a good place to start. Anyway, gotta run. Off to read more books!