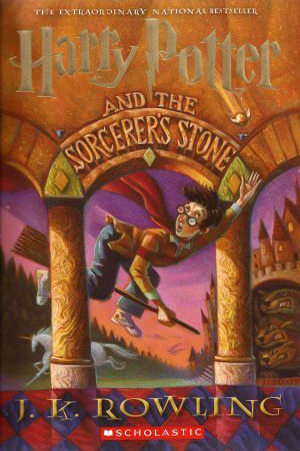 As you all know, my roommate Katie and I compete in a reading challenge every other month. Typically we choose a book that we've both wanted to read for a while, but haven't gotten around to, usually over 500 pages (so that it takes a bit and we can't knock it out in one long afternoon stretch). We try to control when we get to read, we use the same edition, and we can call time-outs for different situations. You know, to keep it fair and all. The winner is the first to finish the book. The prize is usually food, but can be anything up to a $15 value. For motivation and stuff.
Anyway, it's that time again, and this go-around, we've chosen the Harry Potter series. Yep, all seven books! We've both read the series numerous times, but we've wanted to reread for the past couple months, so we decided to make it a challenge. We are starting today, as soon as Katie gets home with lunch, and I can see the rest of this rainy, cool weekend spent in a wave of nostalgia and magic.
I'm so excited about this challenge! This is my favorite book series ever, one that has shaped my life and beliefs in a million ways! I can't wait to dive back in and relive the magic and adventure that I grew up with. I don't even mind if I lose this one because it'll be worth it just getting to set aside this time for Harry Potter.
So, here's to us as we embark on this challenge! Wish us luck!