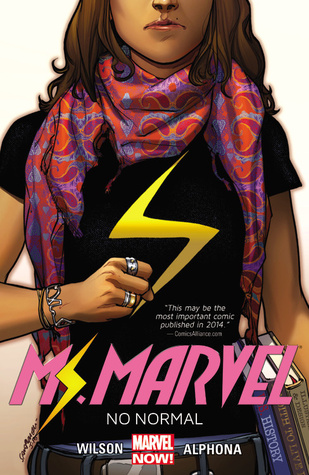 Title – Ms. Marvel, Volume 1: No Normal
 Author – G. Willow Wilson & Adrian Alphona
 2014 – Comics – Superheroes
 Rating – 5/5
The Story: Kamala Khan is just your average teenager from Jersey City. She argues with her parents, sneaks out to parties, struggles with her Muslim faith, and secretly wishes to be more like her favorite Marvel characters. One evening as she is walking home, a strange mist rolls into the city and Captain Marvel appears in front of her. Kamala believes this is a hallucination, but as she witnesses a peer fall into the water and begin to drown, she realizes that she has strange new abilities that will enable her to save the girl. Then she stops a robbery at a local convenience store. Then she gets involved in a larger plot against a villain mysteriously called The Inventor. But first, Kamala has to learn to use her new powers as she takes on the persona of Ms. Marvel.
The Opening Line: I just want to smell it.
What I Loved: I can't even begin to describe how much I loved this comic. Ms. Marvel is a new kind of superhero – an ordinary teenage, Muslim girl living in Jersey City. She struggles with her abilities, with her self-esteem, and with her parents. She just wants more from life, but when she is granted that 'more', she is still just a girl trying to figure it all out. The comic was extremely well written and inked – it's witty, tongue-in-cheek, and smart. It was a pleasure to read, and a visual pleasure as well.
What I Didn't Love: In my humble opinion, this comic is just about perfection.
Final Thoughts: This may be one of the most important, groundbreaking comics ever. A new strong, diverse, female superhero. And a teenager at that. Kamala Khan is someone that the rest of us can look up. We can see ourselves reflected in her. Not just teens or Muslims or those from different cultures…but all of us, as we just try to figure this crazy life out. She's the girl next door, and this comic series is definitely one I'm going to be following closely. I highly recommend that you do, as well!