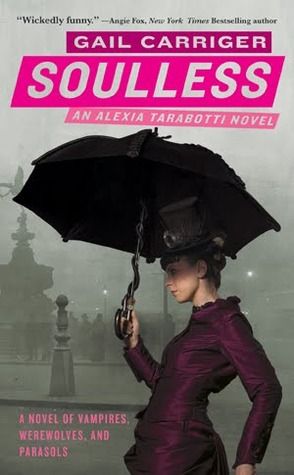 Title: Soulless (Parasol Protectorate #1)
 Author: Gail Carriger
 2009 – Fiction – Speculative Fiction
 Rating: 4/5
The Story: Alexia Tarabotti is a 26-year-old spinster who is too Italian, too tan, and too assertive. There is one thing she lacks, however, and that is a soul. Alexia is a preternatural – a soulless individual with the ability to cancel out the supernatural effects of vampires and werewolves, making them almost human again at a single touch. When vampires start disappearing, and new vampires appear in their place, Alexia must partner with Lord Maccon, the werewolf Alpha and head of BUR, to investigate.
The Opening Line: Miss Alexia Tarabotti was not enjoying her evening.
What I Loved: The pure amount of humor and wit in this novel made it a pleasure to read. My roommate can attest to the fact that I spent 90% of my reading time laughing. The novel is slightly steampunk-y, set in the Victorian era, and 100% British. This is a perfect combination of things, in my opinion. I spent much of the novel wishing I had a steaming cup of hot tea. And although the novel is all about vampires and werewolves, there was nothing remotely Twilight-y about it. It was smartly written and completely amazing.
What I Didn't Love: This is my second read of this novel, and both times it just felt that it was a bit time-consuming to get through. It's an average size novel, and everything was paced well, so I don't know why it felt so long.
Final Thoughts: The novel is described as a comedy of manners, and after reading, I can say that's a completely apt description. For example, when Alexia is attacked by a new vampire in the library, she whacks him over the head with her brass-tipped parasol, with the admonishment of "Manners!". It's like humor meets polite Victorian society meets the supernatural. And it's just as funny and amazing as that implies. I'm moving on to the rest of the series immediately because it's just that good!