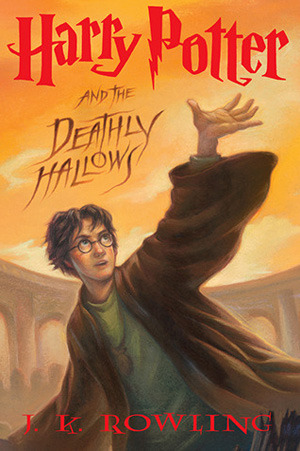 Here's a confession for you. I never expected this challenge to take this long. I thought a week, tops! When I was younger and the books were still releasing, I would blitz through them in anticipation of each installment. But alas, adulting is much harder than being a child – a full-time job, time constraints, and other responsibilities have all contributed to the length of this challenge. But I think we'll wrap things up over the next few days and move on to other things.
HP #1 – Jancee
HP #2 – Katie
HP #3 – tie
HP #4 – Jancee
HP #5 – Katie
HP #6 – Jancee
We are about to start The Deathly Hallows. Since Katie only finished book 6 a few pages behind me, I suggested that we start book 7 together. Make it even. Just as Harry and Cedric entered the maze together in the final task of the Triwizard Tournament, Katie and I will begin the final installment of this journey together. It's been close. Maybe she'll win. Maybe I'll win. Either way, this has been a blast, and I've loved every single bit of it.
Jancee's Thoughts: In Harry Potter related news, have you all heard that there is going to be a new set of full-color illustrated HP books? According to pretty much everything I read on the subject, they'll release 1 book a year, the first of which will release later this year and ending with Deathly Hallows coming out in 2021. One of my friends made the comment that it would be almost like waiting for the original books to release – that sense of wonder and anticipation and the joy of reading. I already own 1.5 sets of the books, but I'll for sure buy these again! The artwork that has been released so far is gorgeous! My favorite source for information on this is this fantastic article over at Mental Floss. Enjoy!
Katie's Thoughts: I love these challenges.  I love that we typically do a book we have both never read before, but that for this challenge we chose the complete Harry Potter.  It's always a blast to go back and reread, and for me one of the most fun parts of this challenge was the unexpected reminiscing with people on the days of waiting for the book releases. Friends I've barely talked to in years saw that I was rereading, happened to be rereading as well, and talked with me about the waiting, the theorizing, the waiting, the fan fic writing, the book releases, etc.  And as much as we complained about the long waits between books, how awesome would it be now, to have a Harry Potter book to look forward to? Oh, wait, full-color illustrated Harry Potter, did you say? Yes!