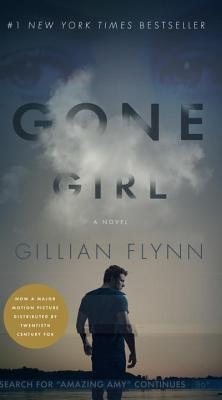 Title: Gone Girl
 Author: Gillian Flynn
 2012 – Fiction – Psychological Thriller/Mystery
 Rating: 4.5/5
The Story: Nick and Amy seem to be the perfect couple. At least for a while. Then they both lose their jobs within a short time span, so they move from their New York City home to Nick's childhood town in Missouri to take care of Nick's ailing parents. One day, Amy disappears. And that's all I'm going to say because MYSTERY.
The Opening Line: When I think of my wife, I always think of her head.
What I Loved: Okay, here's the critical, structure type stuff you need to know that really made this book work. The story is told through a dual-narrative structure that switches between Nick's perspective and entries from Amy's diary. There is a slow build up of suspense and the pacing is perfect. Great. Now that that's out of the way, here's the emotional, this is how I felt sort of thing. OMG WTF just happened??? I thought I knew what was going on, then some stuff happened, then more stuff happened, then my mind was COMPLETELY BLOWN AND HOW DID I NOT SEE THAT COMING????? Days later, I'm still thinking about the ending.
What I Didn't Love: I do have something specific here, but I can't really talk about it because it would definitely detract from your reading experience. And I don't wanna do that.
Final Thoughts: As always, I was a little slow to get on board for this insanely popular book. I mean, even my aunt read this one before me, and that almost never happens! But now that I've read it, I can't believe I didn't read it sooner! Sooo good! I always forget how much I love mysteries and psychological thrillers until I read one, then I always want to read more immediately, but I don't, so I forget again! Now my dilemma is that I want to see the movie, but neither of my roommates have read the book, and they'll probably want to, so I have to wait until they aren't around to see the movie, and I don't know when that will be. Sigh.