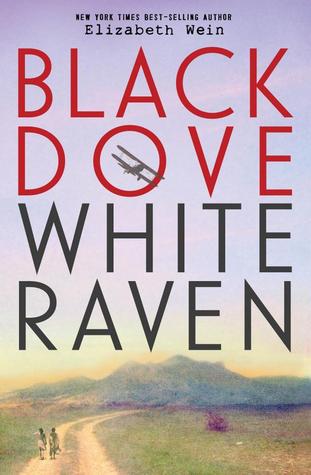 Title: Black Dove, White Raven
 Author: Elizabeth Wein
 YA – Historical Fiction
 Release Date: March 31, 2015
 Source: NetGalley
I think we all have those authors that we love and trust so implicitly that we will automatically read whatever they write, regardless of subject, genre, or reviews. I mean, think about it. How many of us would read a dinner menu if Maggie Steifvater wrote and illustrated it? How many of us jump to attention when J.K. Rowling announces ANYTHING? I could just sit here and reel off some of these authors: John Green, Maureen Johnson, Gayle Forman, Rae Carson, Lish McBride.
Elizabeth Wein is also one of those authors for me. I'm not even a particularly huge fan of historical fiction, but a few well-written books have increased my love and appreciation for the genre significantly. Code Name Verity was one of those books, with amazing pacing, some well-built tension, and a couple of great plot twists that had my emotions reeling. Then along came Rose Under Fire, and it was more of the same. Heartfelt, wrenching, gripping. So even though I had promised myself that I wouldn't request anything else on NetGalley until I got caught up on some other things, when I saw Wein's newest novel, I couldn't stop myself from requesting it.
Black Dove, White Raven is the story of Emilia and Teodros. Their mothers are described in the book as soul mates, best friends who travel the country doing flying stunt shows and raising the two kids as brother and sister. But after an unfortunate accident occurs and Delia dies as a result, Rhoda takes on the task of raising Teo as her own. But a white woman raising a black son is looked down upon in America, so Rhoda falls back on Delia's dream to move to Ethiopia, the country of Teo's heritage, where he can blend in and be free. Soon after their arrival, however, war comes.
Here's the gist of this review, short and unfortunate. I didn't enjoy the book. I tried to enjoy it. I told myself it would pick up, that I would connect with the characters, that something would happen that would just reach out and smack me and make me LOVE this book like I loved the others. Alas, it never happened.
We get the story through flight logs, school themes, and written adventures. Unfortunately, many times these seemed disconnected, like what the kids were writing about didn't really make sense. Their school themes were too elaborate and went way beyond the scope of the topic. The flight logs were supposedly used to log flight training in preparation for getting their flying licenses, and I can't see any instructor having the patience to wade through their stories for the useful, pertinent flight info. It was also hard to follow them as they aged. I couldn't really connect most of the writing with my knowledge of teenagehood, especially their fixation on their fictional characters, White Raven and Black Dove.
In addition, I wasn't under the grip of the same fear-inducing tension found in her first two YA novels. The first half of the book seemed to drag, and even when war came to Ethiopia and there were a couple plot twists, I just couldn't make myself care. The war wasn't really scary and and it was hard to see the desperation, the importance, or the impact. Maybe it was because in Wein's other books, the main characters found themselves in desperate situations. Teo and Em were always mostly ok in this one, even when they weren't.
Overall, I wish I loved this one. I wish I could rant and rave and press it into the hands of everyone I know. But I can't do that. And I'm really disappointed. Will I still read Elizabeth Wein's books? Of course I will. She writes well. But every book has its reader, and this is not the book for me. Sigh.