Title: King Dork (King Dork #1)
Author: Frank Portman
2006 – YA – Realistic Fiction
Rating: 3.5/5
The Story: Tom Henderson is a social outcast at his high school, one of the lowest of the low. He spends all his time thinking up band names with his best friend and trying to avoid the jerks that roam the hallways. But when he finds a stack of old books that his dad read as a teenager, his life changes drastically as he gets caught up in a series of interconnected mysteries, finally sees some action in the girl department, and begins to understand his crazy family.
The Opening Line: It started with a book.
What I Loved: Tom really overcomes some of the obstacles that are holding him back. I think by the end of the book, Tom is a much better person and he sees the world differently. So that's really interesting to watch. I also enjoyed the parallels and constant references to The Catcher in the Rye.
What I Didn't Love: It's sometimes hard to understand life from the perspective of a sophomore boy. So I really couldn't make myself care about Tom or share his opinions on various things.
Final Thoughts: John Green blurbed this, and it sort of reminded me of The Perks of Being a Wallflower. Ultimately, it fell short of those standards, but it was still good, so I'll probably read the second and third books.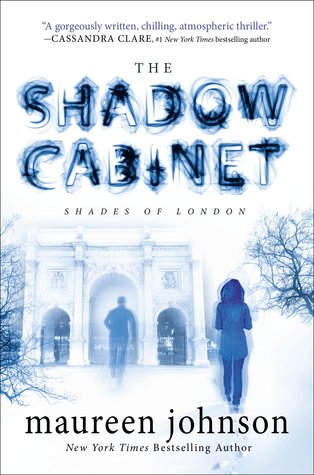 Title: The Shadow Cabinet (Shades of London #3)
Author: Maureen Johnson
2015 – YA – Supernatural Thriller
Rating: 4/5
The Story: Rory's life is in shambles. Stephen is gone, Charlotte has been kidnapped, and the squad is falling apart. The only hope lies in a mysterious ritual called the Rites of Demeter, but what to what lengths will Rory go for those she cares about?
The Opening Line: The curtains at 16 Hyssop Close hadn't been opened all day.
What I Loved: I love every single member of the squad and their different quirks and personalities. I love how they express emotion differently and how they react to different situations. And I love how they ultimately work as a team, regardless of personal feelings or obstacles.
What I Didn't Love: The ending felt really open to me, which is obviously setting up for another book, but still. I don't wanna wait.
Final Thoughts: This is pure Maureen Johnson goodness, and I can't wait for book #4. This third installment completely redeemed the series for me (I didn't enoy #2 all that much, but now I see why it was necessary), and I really just want more.