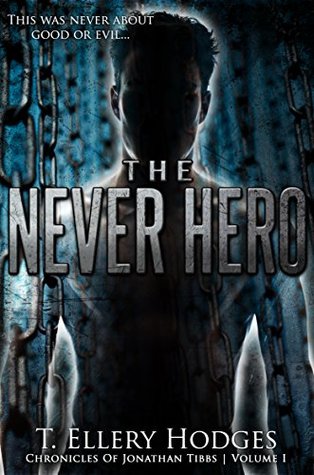 Title: The Never Hero (Chronicles of Jonathan Tibbs #1)
 Author: T. Ellery Hodges
 2014 – Fiction – Urban Fantasy/Science Fiction
 Rating: 4/5
The Story: Jonathan is your typical college student – he goes to class, holds down a part-time job at a local hardware store, and listens to his housemates argue over movies. But one evening when he's home alone, he's attacked by a blond stranger, injected with a syringe, and left in a puddle of his own blood. Weeks later, his chest lights up (literally), he gains super strength, and he is sent to fight a monster rampaging through downtown Seattle. After the battle, he begins to put the pieces together and realizes that he is being forced to play the hero role and stand between Earth and an oncoming invasion.
The Opening Line: It was cold in the elevator shaft.
What I Loved: Hodges did a stupendous job in building fantastic and believable worlds. I immediately liked Jonathan and friends, and I loved learning their stories and watching their personalities unfold as the story played out. It was easy to relate to Jonathan – I think we all sometimes feel forced or manipulated into situations that feel unfair and desperate (can you say everything that comes with being an adult?), and I think Jonathan handles it so well. With a stupendous amount of pressure on him to succeed (and without even being able to confide in his friends), Jonathan keeps his head down and does what he needs to do. I also loved all the roommates, especially as they argued about comic books and popular fictional universes, things I hold close to my heart. Their support for Jonathan, even without knowing what he is going through, is the mark of true friendship.
What I Didn't Love: Even with a couple of revelations and plot twists, it'll be interesting to see how Hodges approaches coming battles in future books. I'm not a super huge action fan, so I was glad that most of the book focused on Jonathan and friends as opposed to being one battle after another.
Final Thoughts: I haven't read a ton of urban fantasy, or even science fiction for that matter, as my tastes generally lie more toward contemporary fiction or fantasy, but I really loved this book. It was compelling, fun, and explained the hero myth so well that no one could argue. I found myself mentally joining in with the roommates as they debated the merits of Batman vs. Superman. And I ached with sympathy for Jonathan. This book is so well-done and such a great read!