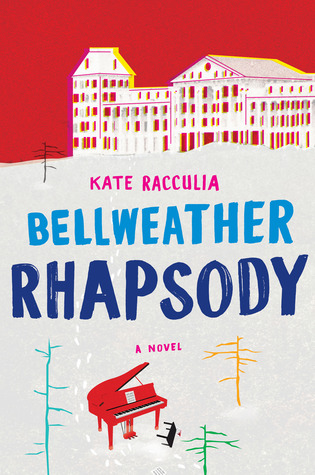 Title: Bellweather Rhapsody
 Author: Kate Racculia
 2014 – Fiction – Mystery
 Rating: 4/5
The Story: When she was a child, Minnie Graves witnessed a terrible tragedy at the Bellweather Hotel – a new groom shot by his bride, who then hung herself. Years later, on the anniversary of the event, she returns to the hotel to come to grips with what happened. Also at the hotel that weekend is the statewide conference for talented high school musicians. Trapped by an impending snowstorm, how will everyone fare when one of the students goes missing?
The Opening Line: Minnie Graves is a bridesmaid.
What I Loved: I am finding more and more that I love these types of literary mysteries. Actually, any mystery gets me. Anyway, I was trying to figure out how everything connected, but the ending and how everything came together just blew me away.
What I Didn't Love: I read this a while ago and am only now remembering to do the review. So I'm sure I had things, but I don't remember. Sorry.
Final Thoughts: The hotel was a really atmospheric setting. It was also a lot scarier than I had anticipated, although by no means is it intended to be a horror novel or anything of the sort. I'm just a wimp, I promise. But I loved the characters and the premise, and the mystery totally sucked me in. Definitely a good read.
 Title: Dead Money Run
 Author: J. Frank James
 2013 – Fiction – Action
 Rating: 3.5/5
The Story: Lou Malloy learns of his sister's death right before he is released from prison, having served 15 years for the theft of $15 million from an Indian-owned casino. After his release, he heads to the Southeast to track down his sister's killer, but it isn't long before he gets sucked into something even bigger. Before long, he is wanted by everyone from the mob to the FBI.
The Opening Line: The warden was a small man, but dressed neatly.
What I Loved: The action really moved the story along. There were never really lulls where I got bored or distracted, and the pacing, although fast, fit the tone of the novel overall. I also really liked the short chapters, as it made it easy to pick up and read even during the shortest of breaks.
What I Didn't Love: On a purely surface level, I did notice the occasional typo and grammar error. Within the story itself, I could never bring myself to really love Lou as a main character. Sometimes he made connections that seemed impossible, while at other times, he couldn't draw the simplest of conclusions. I liked Hilary much better.
Final Thoughts: I'm not huge into stories driven mostly by action, so this was a bit of a stretch for me. But to my surprise, it was a pretty enjoyable read overall, especially if you're interested in crime syndicates and the lives of the rich and corrupt. If you enjoy gangsters, casinos, guns, cars, and money, this is definitely a book you should check out!