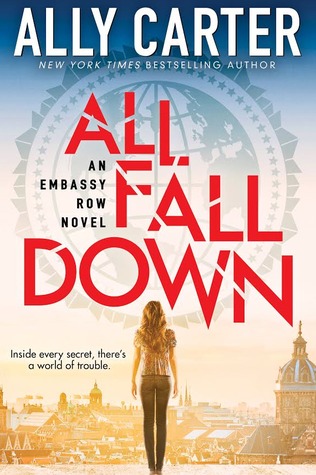 Title: All Fall Down (Embassy Row #1)
 Author: Ally Carter
 2015 – YA – Mystery/Thriller
 Rating: 4/5
The Story: Grace was a witness to her mother's murder, and she thinks she saw the man who did it. Now she's moving in with her grandfather, an important ambassador to the country of Adria, and with the help of her friends, she's determined to find her mother's killer and bring him to justice.
The Opening Line:
What I Loved: I really don't think there's enough of this sort of mystery/thriller/spy genre written for young adults. It's really easy to get into the story, and you really feel invested in the outcome, like you NEED to know who the bad guy is and how to stop him. Add in some twists and turns, a hint of romance, and some great, fluctuating friendships, and it's easy to see how books like this become hits.
What I Didn't Love: I think this is maybe a failure on my own part, but at the end of the book I was a little confused by some of the events. Turns out I didn't know what I thought I knew, so I felt a bit jumbled. That really could just be me, though.
Final Thoughts: This was such a fun book. I read the first book in Carter's Gallagher Girls series a long time ago and thought the series had promise, but I've never gotten around to reading the rest. Now, after reading this, I definitely want to go back and read all of Carter's other stuff. I mean, really, how can you resist teenage spies, international diplomacy, and romance?
 Title: Middlesex
 Author: Jeffrey Eugenides
 2003 – Fiction – Realistic Fiction
 Rating: 3.5/5
The Story: Calliope Stephanides is born with a rare genetic mutation – she is biologically XY, but it goes unnoticed at birth and she is raised as a girl. As she begins to suspect that there is something unusual about her, her family must confront its complicated history and uncertain future.
The Opening Line:
What I Loved: After a while, I really got into Callie's family history and stories. The book itself is set over many, many years, and so the reader is privy to decades of family history and tradition. This was helpful in drawing me in and really making me care about what was going to happen next.
What I Didn't Love: For the first bit of the book, I was literally asking my roommate every few pages, "What the heck am I even reading right now?". Seriously.
Final Thoughts: I'm pretty sure this is the first Pulitzer Prize winner I've read, but it doesn't really make me want to go read the whole list of winners. At times it seemed a little pretentious, at other times I was really invested, and overall I came out feeling okay about the whole thing.