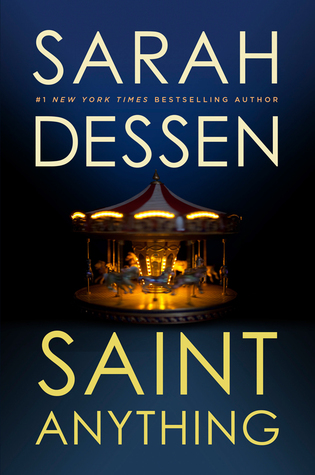 Title: Saint Anything
 Author: Sarah Dessen
 YA – Contemporary Fiction
 Release Date: May 5, 2015
 Source: NetGalley
It wasn't until I was in college that I picked up my first Sarah Dessen novel. I can't remember why or how at the moment. My best guess is that I went home with a friend for the weekend and maybe she had a couple Sarah Dessen novels on her bookshelf? Anyway, I was looking for something a bit light and fluffy to take my mind off of all the stress from school, and a fun summer romance seemed to be just the thing.
Well, after I read that first novel, I never looked back. In short order, I devoured every Sarah Dessen book that I could get my hands on. It didn't take me very long, as her writing completely pulled me in and made me crave more. I adored each and every one of her books.
News of her latest, Saint Anything, has been floating around, spreading like wildfire. Out of curiosity, I logged onto NetGalley (you know, just to see), and there it was. Just begging to be requested. Imagine my excitement when I received my approval email!! I couldn't wait to dig in and experience the Dessen magic all over again!
My first reaction, much of which is echoed in reviews I've seen so far, is that  Dessen's latest is much darker than any of her previous work. Sure, her other books tackle deep, important issues, but underlying all of them is a light, fun sort of vibe.
Saint Anything is different. From the beginning we see that Sydney's life is defined by the actions of her brother, Peyton. He is the golden boy that can do no wrong…even when he does. He is the recipient of their parent's time and attention and love. Sydney is the good girl that has always exceeded expectations, but remains mostly invisible. And when Peyton gets drunk, hits and paralyzes a teenager on a bike, and goes to jail, he becomes even more of a priority, while Sydney is shuffled to the side and receives even more restrictions.
This sets a much darker tone for the foundation of the novel. At its core is Sydney's desire to be known and loved and to truly fit in. Things begin to look up when Sydney transfers to a new school and meets a brother and sister that immediately accept her into their family, but the whole novel is really kind of a struggle for Sydney to open up and break free from Peyton's shadow and actions. And while there are plenty of those comedic, romantic moments that Dessen is known for, overall Saint Anything is much more complex and nuanced.
In fact, I was thinking that Saint Anything really reminded me not so much of Dessen's other novels, but books like I'll Meet You There by Heather Demetrios, My Life Next Door by Huntley Fitzpatrick, or either of Carrie Mesrobian's novels. I say that as the highest compliment, mind you. In the end, I found myself closing the novel at 1am, having read straight through from page 100 to the end without being able to put the book down.
So, yes. Saint Anything is a little bit different than traditional Dessen. In my opinion, it rises above and sets a new standard. It is complex and thoughtful and beautiful, and makes me remember why I fell in love with Dessen's writing. Please, please read this book. Let it make your life a little bit better. And when you finish it, please tell me what it did to you, how it moved you – I would love to know.