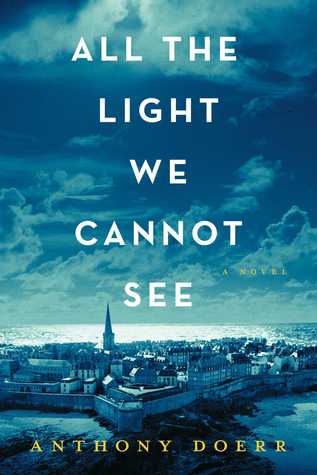 Title: All the Light We Cannot See
 Author: Anthony Doerr
 2014 – Fiction – Historical Fiction
 Rating: 4/5
The Story: ATLWCS is a dual-narrative and also a sweeping interconnected arc that brings together the stories of Marie-Laure, a 16-year-old blind girl living in France during World War II, and Werner, a German teenage soldier recruited into the army because of his expertise and technical prowess with radios and electronics. Marie-Laure lives with her father, a locksmith for a renowned museum. When he is tasked with the transport and safety of a priceless and notorious diamond, his whole family could be at risk from the supposed curse resting on the jewel. Werner joins the German army as a means of escape and opportunity – he grew up in an orphanage and just wants the opportunity to study science. When both find themselves in Saint-Malo, France at the end of the war, their stories converge.
The Opening Line: At dusk they pour from the sky.
What I Loved: As I've said before, I'm finding more and more that I really like well-done historical fiction. I consider ATLWCS really well-done. It was a literary darling last year and also garnered an Alex Award from the ALA, so I've been dying to read it. The dual-narrative and short chapters work really well, although sometimes an abrupt ending left me hanging. Both characters were compelling. I felt sorry for them, because Marie-Laure is blind and Werner is an orphan forced into a war he didn't want to fight, but there's no actually no reason to feel sorry for them. They're exceptionally strong characters with intriguing stories.
What I Didn't Love: Villains. The greedy, greedy, power-hungry villains are so hard to handle. I find this to be true in a lot of cases. You know how sometimes you love to hate a character? There was none of that. I just straight-up hated the villains, probably because World War II actually happened and atrocities were committed by real villains.
Final Thoughts: I had this book on hold forever! I was something like 85th in line when I first put it on hold, which proves that it's still immensely popular and compelling. I was a little afraid to actually start the book, because it was so hyped up, but overall, it was a very good book and exceeded my expectations!