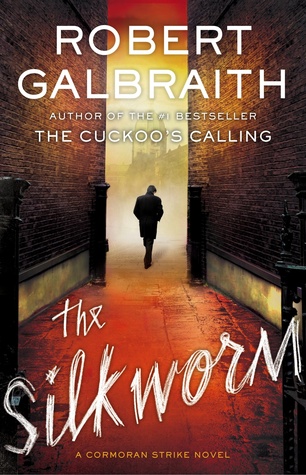 Title: The Silkworm (Cormoran Strike #2)
 Author: J.K. Rowling writing as Robert Galbraith
 2014 – Fiction – Mystery
 Rating: 4/5
The Story: Although Cormoran Strike outwitted the police and solved the Lula Landry case, now his clients are mostly wealthy husbands or wives wanting proof of spousal infidelity. When Leonora Quine walks in, however, he takes on the case of her missing author husband, whom he later finds horrifically murdered. The police target Leonora as their prime suspect, but Strike knows there has to be more to the grisly situation.
The Opening Line: "Someone bloody famous," said the hoarse voice on the end of the line, "better've died, Strike."
Thoughts: Rowling's magic strikes again in her latest Cormoran Strike novel. It always amazes me how adept she is at writing complex plotlines that weave and amble just a bit before she deftly draws everything back together in a stunning conclusion. It doesn't seem to matter whether she is building an immersive fantasy world, writing about small town politics, taking on new genres, or publishing a graduation speech, her writing is always spot-on. I especially loved reading this novel during lunch breaks, watching my world vanish and be replaced by the snowy, blustery streets of London. I always love a good mystery and the thrill of trying to piece together the solution before the author's big reveal, and Rowling ranks pretty high up on my list of good mystery authors.
Don't be fooled, though. There's much more to her novel than a good, rousing murder mystery. In particular, I loved watching Robin's growth as a character. In light of the post I wrote yesterday about the need for feminism in our male-dominated culture, I found it fascinating to chart Robin's journey to find her own voice and come to grips with her love of investigation, even as she faced staunch opposition from her fiance, Matthew. At the beginning of the book, Robin often falls in line with Matthew's opinions and needs, even when they sharply contrast with her own wishes. As the story progresses, she begins to assert herself, confronting Matthew and even Strike as they relegate her to little more than a sounding board for their own careers and purposes.
I very much look forward to the next entry into the series. I want to continue to learn more about Robin and Strike, I want to see Robin blossom into Strike's full-fledged partner, and of course I want another great mystery. More world-building, more dynamic characters, more drama. Just more of everything that I've come to love about the Cormoran Strike books.