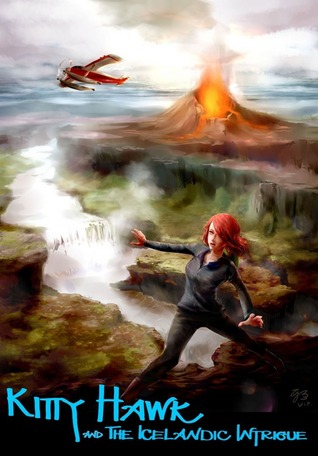 Title: Kitty Hawk and the Icelandic Intrigue (Kitty Hawk Flying Detective Agency #3)
 Author: Iain Reading
 2013 – KidLit/YA – Mystery/Adventure
 Rating: 4.5/5
The Story: Kitty Hawk is on a journey to travel the world and follow in the footsteps of aviation great Amelia Earhart. Her goal is to fly around the world…with plenty of stops for fuel, rest, and exploration, of course!. After a stop in Key West, she heads to Iceland. She explores the city, meets a researcher whose hobby is paper airplanes, and stumbles onto a criminal group that is bribing officials on an energy project that could threaten Iceland's ecosystem. It will take all of Kitty's courage to work to stop the group and preserve Iceland's pristine lands.
The Opening Line: The bullet split the air with a dreadful ripping sound and whizzed past my ear like some horrifyingly angry insect.
Thoughts: These Kitty Hawk books just get better and better. I'm really loving this series for a lot of reasons. This isn't your typical YA. There aren't any love triangles, dystopian governments, or chosen ones who wield special powers to save their countries. Kitty is a strong heroine who knows her strengths and how to use them. She is confident and intelligent and adventurous. It is a completely fresh series with a main character who wants to see the world and follow in the footsteps of one of her heroes. Her main concern isn't finding a boyfriend or losing her virginity or deciding where to go to college or which party she should attend on Friday night. Instead, she has an attainable goal based on her passions.
Like any teen, she does struggle with self-doubt and how to do the right thing. Unlike many main characters though, she uses her intelligence to critically think through a problem and reach a solution. She is open-minded and warm, getting to know the local population of whichever location she happens to be visiting. Each book is infused with the culture that it draws from. In Iceland, Kitty tries traditional foods, learns about the ecosystem and Iceland's unique position in environmental issues, and listens with rapt attention to stories about elves, hidden ones, and trolls. I love trivia, and each book in this series is a gold mine for facts about aviation, wildlife, culture, and more.
Short chapters and plenty of action serve to keep readers hooked. I love being able to read several chapters on a lunch break, and I always have a good place to stop/pick the book back up. The style and tone are enthusiastic and very, very readable. You can't help but to catch some of Kitty's passion for the world and for flying. With each adventure, I fall more and more in love with this series.