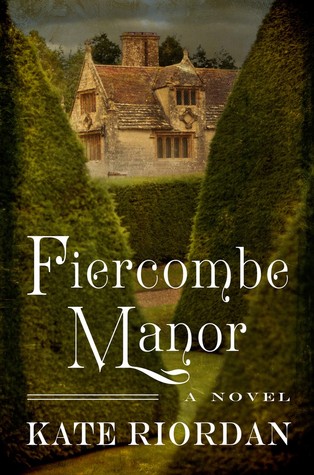 Title: Fiercombe Manor
 Author: Kate Riordan
 2015 – Fiction – Historical Fiction
 Rating: 4/5
 Source: Katie from Doing Dewey
The Story: After a heart-wrenching affair with a married man who promised her that he would divorce his wife, young Alice finds herself alone and pregnant. A disgrace in the eyes of her family, she is sent to live at Fiercombe Manor, a secluded estate in the countryside. While there, she begins to learn about the estate's family and history, and discovers a connection to Lady Elizabeth Stanton and her tragic past.
The Opening Line: Fiercombe is a place of secrets.
Thoughts: I was super excited to receive this in the mail from Katie, one of my blogger friends and a trusted source of great book recommendations. I've been loving my journey into historical fiction – in the past it was a genre I wouldn't really touch, now I can't seem to get enough!
Fiercombe Manor is set up in a dual narrative style. Readers gain insight from both Lady Stanton as well as Alice, but the structure never feels disjointed or out of place. The narrative flows well, with each lady supplementing the other as well as bringing new details that enrich the story. I was pleasantly surprised at the almost Gothic atmosphere of the book – I love that style but it wasn't really something I was expecting, so that only added to my enjoyment.
 Title: Confessions
 Author: Kanae Minato
 2014 – Fiction – Mystery/Thriller
 Rating: 3/5
 Source: Library
The Story: Yuko Moriguchi is a middle school teacher. That's her profession. What she actually lives for is her 4-year-old daughter. And when her daughter is discovered dead in the school's pool one evening, Moriguchi devises a plan for revenge. Because she knows her daughter didn't drown by accident….she was murdered.
The Opening Line: Once you finish your milk, please put the carton back in the box.
Thoughts: I read this for the 2015 YALSA Hub Challenge. It's an English translation of a book originally published in Japanese. And my summary of this book is that it's a strange, strange book.
At first glance, it had all the right elements. A murder, a revenge plot, and schoolkids turning on each other. I don't know what I expected – some sort of Battle Royale mashup thing? Anyway, this book isn't that. Instead, it's complex and often convoluted. Each chapter is told from a different character's perspective, which gives the reader some unique insights, but often I felt as if each and every narrator was unreliable. I guess that's sort of the point, to leave readers in the dark as the plot unravels. But even when I reached the end and had all the information available to me, I was left confused and disoriented. Intriguing premise, but for me, not enough follow-through.