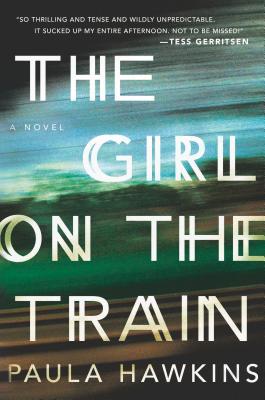 Title: The Girl on the Train
 Author: Paula Hawkins
 2015 – Fiction – Mystery/Thriller
 Rating: 4/5
 Source: Library
The Story: Every day Rachel takes the train into London. On her morning commute, the train always stops or slows at a certain point along the track, and she loves to look at the row of houses nestled nearby. She particularly loves to watch the couple she has deemed Jess and Jason – on most mornings, Jess can be found having coffee on the terrace and Jason often pops out for a chat as well. To Rachel's eyes, their marriage and life together look perfect, everything she doesn't have. But then Jess (who in actuality is named Megan) goes missing and her husband is the prime suspect.
The Opening Line: She's buried beneath a silver birch tree, down towards the old train tracks, her grave marked with a cairn.
Thoughts: So, this is it, huh? The next Gone Girl, the bright and shiny novel that captured the world's attention? I mean, I would have read it anyway, probably, because I really like the mystery/suspense/thriller genre, but I recently read Gone Girl and wanted more. And my library has this thing called "Lucky Day". It's a small selection of the latest, greatest, most popular books, the ones with hold lists a mile long. Anyway, a few of these books are set aside and deemed "Lucky Day" books – they are usually set up as a display, there is no line or hold list, and their checkout period is only a week long instead of the typical 2 weeks for new books or 4 for everything else. Anyway, I got lucky and happened to be in the library the other day when The Girl on the Train was available. Because about a million people have told me to read it, I grabbed it then and there.
So, here's the question. Is it the new Gone Girl? I think not. The books do share similar features – missing wives, suspicious husbands, unreliable narrators, and a lot of lies. But I think this book does a fine job of standing on its own. Hawkins does a great job of weaving 3 stories together into one narrative, with plenty of plot twists and enough vague clues to keep readers guessing. I finished the book in a day. Last night in fact, as we were chowing down on burgers at McDonald's, I was frantically reading the last few pages, completely ignoring my roommate as I tried to figure out what happened. So whether you have or haven't read Gone Girl, The Girl on the Train is a worthy read in and of itself.
And yes, I realize I didn't do a real review – I talked a lot about my library and McDonald's, right? Intentional. Best you come at this book without knowing too much! 🙂