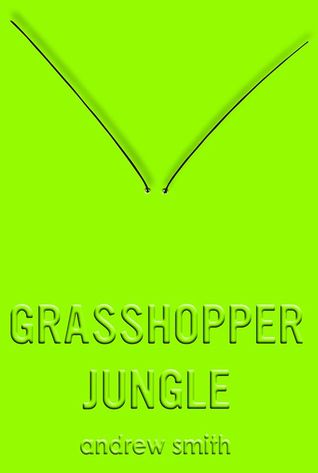 Title: Grasshopper Jungle
 Author: Andrew Smith
 2014 – YA – Science Fiction
 Rating: 2.5/5
 Source: Library
The Story: Austin is just a normal kid living in a small town in Iowa. He walks his dog, smokes cigarettes with his best friend Robby, fantasizes about having sex with his girlfriend Shann, and works for Shann's stepdad in a consignment store in a mostly abandoned strip mall. But things change quickly after a break-in at the shop results in the spread of a virus created long ago – a virus intended to spawn superhuman unstoppable soldiers. Has the end of the world come to Ealing, Iowa?
The Opening Line: I read somewhere that human beings are genetically predisposed to record history.
Thoughts: Ugh. Okay, I heard from a lot of sources that this book is different. But I'm good with different, right? Quirky is my jam! But in spite of many glowing reviews and accolades from bloggers and organizations alike, I have to disagree. While the premise really, really intrigued me and I was eager to read a different take on the apocalyptic scenario, ultimately this just wasn't the book for me.
I don't really have a specific thing I didn't like about it. The writing style was okay. The tone and recounting of events seemed pretty plausible for a teenage boy. Characters were good and likeable enough. There was quite a bit of death and gore, but in light of an apocalypse, what's a little blood between friends?
My favorite part was the discovery of New Eden, the underground bunker complex that was fully equipped to handle a long range apocalyptic scenario. Because of course this has happened before. Fully outfitted with dorms, kitchens, bathrooms, offices, labs, even a bowling alley, New Eden represented the start of a new era of mankind and it was very Fallout-ish or something like that.
But nothing else really grabbed and held my attention. The book is about the size of a normal YA title, and it isn't particularly difficult to read and understand. In fact, I would recommend this for reluctant readers, especially guys and gamers and sci-fi aficionados. For me, though, it seemed to take forever. I'm a huge fan of Andrew Smith, so this isn't a deal breaker for me, but I guess I'll stick to his more traditional stuff, like Winger and Stand-Off.