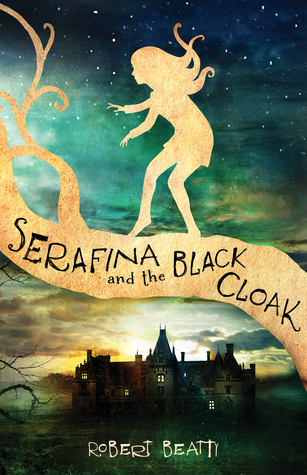 Title: Serafina and the Black Cloak
 Author: Robert Beatty
 KidLit – Fantasy/Mystery
 Release Date: July 14, 2015
 Source: NetGalley
To be perfectly honest, I'm not sure why I originally  decided to request this. Or even how I found out about it. I can only guess that I was browsing through titles on NetGalley and something about this book struck me. Looking at the synopsis, it falls squarely into the list of things I love. Famous landmark? Check. Spooky mystery? Check. Supernatural doings? Check.
Anyway, long story short, I requested it. I started reading it on my phone, so it was hard to get into at first. But after I switched to reading it on my laptop, it picked up and I was able to read more easily and quickly.
The story centers around Serafina. She and her father live in the basement of Biltmore Estate, where he serves as the estate's mechanic and repairman. And before you ask, yes, that Biltmore Estate. They have been living secretly in the basement for as long as Serafina can remember, but she doesn't mind because she loves to explore the grand house by night and fulfill her (father-given) duty as the estate's Chief Rat Catcher. But when children start going missing and Serafina witnesses the act committed by the Man in the Black Cloak, she must team up with Braeden to stop him before he strikes again. In the process, she begins to discover her own history and the secrets her pa has kept from her.
I love this premise. Mysterious happenings, disappearances, unreadable characters, secret pasts, and an unlikely friendship are a good combination, and for the most part, worked really well in this novel. I don't know anything about the Vanderbilts of history, but I love their portrayal in the book as a kindly, caring couple who adored their nephew Braeden and didn't hesitate to organize search parties for those who went missing, regardless of whether they were children of visiting dignitaries or servants. I also liked Braeden and his friendship with Serafina – even when they disagreed, they ultimately realized that working together was more important than being right. Plus, he didn't care that she lived in the basement and wouldn't have been an "approved" association for him.
A couple things I didn't like: I guessed the culprit way too early. For me, it was pretty obvious who the Man in the Black Cloak actually was, and I think the book gave some pretty heavy clues. Not only was I not surprised at the end, there was never another villain option in my mind. I also was expecting this book to be different than it was. The phrase "spooky mystery" draws me in every time, but I was thinking that it would play out differently than it actually did, which was a bit of a personal letdown.
Still, this is a cool fantasy/history/supernatural/spooky mashup that kids will probably enjoy. It would be especially good as a read-along before Halloween, I think.